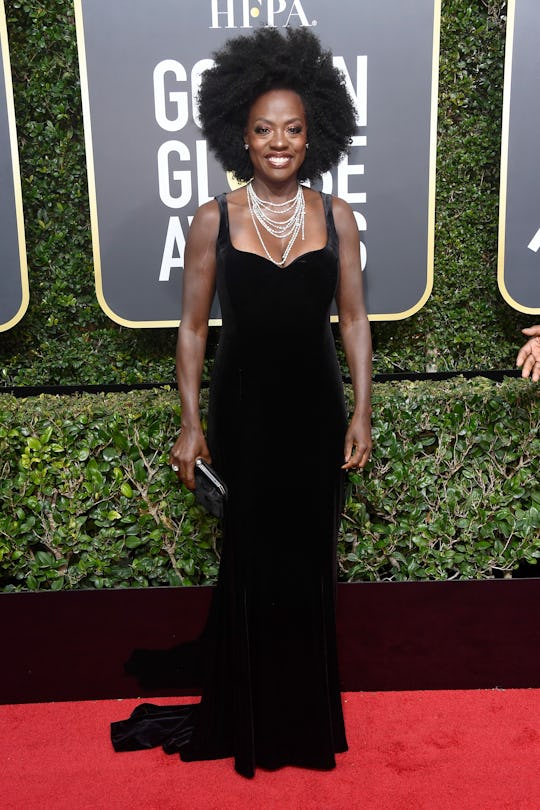 Frazer Harrison/Getty Images Entertainment/Getty Images
Viola Davis' Time's Up Comments At The Golden Globes Will Probably Make You Cry
The 2018 Golden Globes was a "coming out party" of sorts, or at least that's how acclaimed actress Viola Davis sees it. As the most powerful, most inspiring, and most talented Hollywood actors and actresses dressed in black on the red carpet, many accompanied by prominent activists working to change a patriarchal society that perpetuates workplace sexual harassment and pay inequality, it was Davis who captured the night perfectly. Trust me when I say, Viola Davis' #TIMESUP comments at the Golden Globes will probably make you cry, and you won't be the only one reaching for the tissues.
As a sexual assault survivor, I can say with great confidence that while the #MeToo and #TIMESUP movements have been empowering, they have also been triggering. So, from time to time, remembering why speaking out, sharing our stories, standing in solidarity with one another, and holding space for the most disenfranchised among us is so important, is not only necessary; it's a gift that keeps on giving. It's a pat on the proverbial back, a silent permission to take time to care for ourselves, and a courageous call to action that reminds us that our work, forever and always, is not done.
Which is why everyone needs to hear, or at least read, Davis' comments about what it meant to walk the red carpet in all black, standing shoulder to shoulder with women who've experienced workplace sexual assault, harassment, and pay inequality. During a red carpet interview, Davis said, "But, for me, I am here because I hear the voices of women who said 'me too,' which one of them was me. I hear those voices, those people who are nameless, faceless, every day, who don't have a platform."
But it's arguably the following quote that made the most impact and, at least in the humble opinion of this sexual assault survivor, relayed a message every single woman needs to hear over, and over, and over again:
There's no prerequisites to worthiness. You're born worthy. And I think that's a message that a lot of women need to hear. The women who are still in silence because of trauma, because of shame due to assault, they need to understand it's not their fault. And that's what tonight's about for me.
Davis also described the Golden Globe as a "coming out of sorts," saying, "I hear the voices of the nameless, faceless who don't have a platform to talk about their sexual assaults."
According to the Rape, Abuse & Incest National Network (RAINN), an American is sexually assaulted every 98 seconds in the United States, and there are 321,500 victims (age 12 or older) of rape and sexual assault each year. An estimated 1 in 6 women have been sexually assaulted at least once in their lifetime, and women of color are at a higher risk of being sexually assaulted and/or harassed. According to the Connecticut Alliance To End Sexual Assault, 18.8 percent of African-American women will be raped in their lifetime, and 34.1 percent American Indian/Alaskan Native are raped. The same site reports that "approximately 40 percent of Black women report coercive sexual contact by age 18."
And of course, the aforementioned figures do not take into consideration the countless women who remain silent. According to RAINN, "only 310 out of every 1,000 sexual assaults are reported to police." Women choose to stay silent for feared retaliation, the belief that the police wouldn't help, the belief that their trauma wasn't important enough, and the belief that it was a personal matter.
That, dear reader, is why Davis' message is one of vital importance, especially as more women come forward with their own #MeToo stories. We are born worthy. We are not broken. We are not dirty. It is not our fault.
Check out Romper's new video series, Romper's Doula Diaries:
Watch full episodes of Romper's Doula Diaries on Facebook Watch.