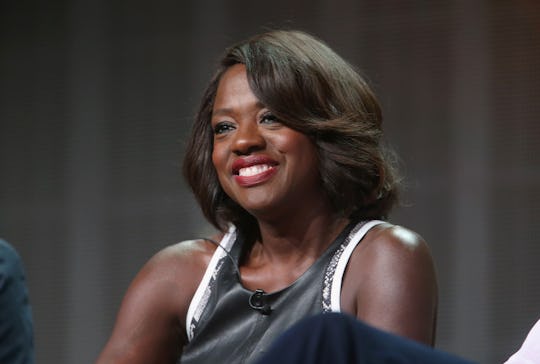 Frederick M. Brown/Getty Images Entertainment/Getty Images
Viola Davis' Tips For Disneyland Are All You Need For Your Next Family Vacation
Viola Davis is a queen, no question about it. Not only is she an amazing actress who has made history by becoming the first African American woman to win an Oscar, Emmy, and a Tony for her incredible work. And she's the mom of 7-year-old Genesis. So yeah, Davis just seems like the most fun person ever to hang out with — hands down. And this affirmed yet again when she made an appearance on Jimmy Kimmel's late night talk show. During the recent interview, the one and only Viola Davis shared her tips for parents going to Disneyland and they are hilariously on point.
Although the rules could also be appropriated for Disney World, Davis is a self-described Disneyland "addict." In the past year, she's been to Disneyland eight times. Basically, her daughter is kind of a cover for Davis' adult Disneyland obsession. She told Kimmel, "Everytime I said, 'Genesis, whenever you want to go, Mommy's ready, ok?'"
That's sort of Davis' parenting style, though. "I'm the softie," she told People fresh off of her Oscar win. The actor added that she tries to keep Genesis as grounded as humanly possible. She said that "entitlement" is her number one fear for her daughter and that she and husband, Julius Tennon, try to hold the tot "accountable" for every thing, she told People.
But, it's not like her daughter could get away with anything since Davis' husband since 2003 is the "bad cop," she revealed. According to People, she explained:
Julius is really tough. He has two beautiful children and seven grandkids. I came into a relationship where he already had children and grandchildren and raised his kids on his own, so he's tough — he toes the line, but in a very loving way.
But, when it comes to having the best possible time at one of the happiest places on Earth, Davis is the pro. So, here are her very smart tips for parents heading out to Disneyland.
Definitely Get The Turkey Leg
According to Davis, the turkey leg is worth every penny. But make sure your S.O. isn't snapping family photos of you while you're enjoying that thing. Davis warned on Jimmy Kimmel Live!, "You do not want TMZ or Bossip or MediaTakeOut to see you at Disneyland eating that damn turkey leg. I suck on the bone — everything. I turn into a stone cold animal." Same, Viola, SAME.
Definitely Go In A Group & Feel Free To Talk Smack
She told Kimmel the last time she went, her group was 20 people strong, with 15 kids. ("We lost one once for 30 seconds," she told Kimmel, but everything turned out OK.)
The first ride they went on was the Cars movie themed ride, "because you can talk smack to the other cars," she explained. "Other actors, they see the humor in that. Lay people, not so much," she laughed. So if you see Viola Davis "bullying" her kid at Disneyland, don't worry about it.
Women: Watch The Wigs
Davis advised during the segment, "To all the sisters out there, don't put that wig on your head!"
Because once you put the turkey leg down and hop on a ride, that thing has nowhere to go but flying off of your head. Do as she does and pin those suckers down.
And The Best Ride Is...
Hyperspace Mountain. But without the lights. Davis said that when Genesis saw it for the first time with all the lights on, her first reaction was pretty extreme. "We're gonna die!" the 7-year-old screamed, Davis told Kimmel. (They were fine.)
The Worst Ride, Though?
Although she looked sorry to admit it, she had to say that the worst ride was "It's A Small World." Davis elaborated, "That's my definition of hell. If I was stuck in that damn thing for two hours, you would just have to commit me."
The Churro Is Also Delicious
Aside from going "full on animal" on the turkey leg, the 51-year-old actor also highly recommends the churro as a light snack in between rides. Duly noted.
Watch the whole hilarious segment in its entirely below:
Obviously, Davis knows her way around the parks and how to get down with the best snacks. Let's hope Genesis loves it as much as she does. But, let's be real, she definitely does.
Watch Romper's new video series, Romper's Doula Diaries:
Check out the entire Romper's Doula Diaries series and other videos on Facebook and the Bustle app across Apple TV, Roku, and Amazon Fire TV.