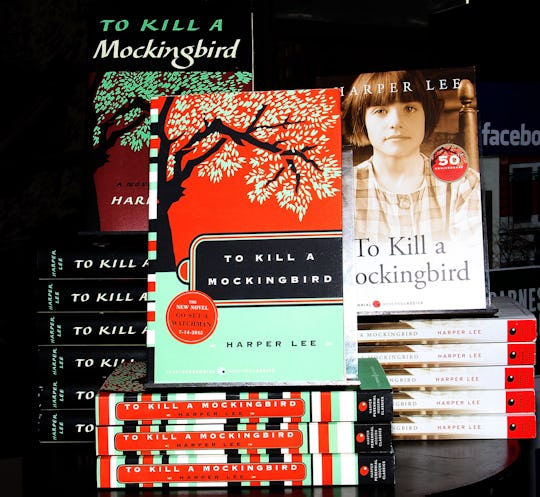 Laura Cavanaugh/Getty Images Entertainment/Getty Images
Virginia Schools Remove 'To Kill A Mockingbird' & 'Huckleberry Finn' For Racist Language
The Accomack County Public Schools in Virginia have removed To Kill A Mockingbird and The Adventures of Huckleberry Finn from school libraries after a parent complained that both of the classic books contain racial slurs, according to The Washington Post. Per district policy, the books have been temporarily removed while a committee deliberates whether or not they should be permanently banned. According to the school board's manual, the committee, consisting of "the principal, the library media specialist, the classroom teacher (if involved), a parent and/or student, and the complainant" must read the book and conduct extensive research on the material before making a final recommendation to the superintendent. The Accomack County Public Schools haven't yet responded to Romper's request for comment.
The parent, a white mother of a biracial high school student, raised her concerns at a Nov. 15 school board meeting that "children will not or do not truly get" that the books are examples of classic American literature, and that including books that contain the N-word in the curriculum is "validating that these words are acceptable." According to the National Coalition Against Censorship, Huckleberry Finn, set in the American South during the mid-1800s, contains 219 racial slurs, and To Kill a Mockingbird, set in Jim Crow-era Alabama, contains 48. The inclusion of the slurs is, unfortunately, emblematic of the parlance of those settings.
Both To Kill A Mockingbird and Huckleberry Finn frequently appear on lists of the most-banned books because of their language. While some are concerned that reading books containing racial slurs might encourage students to use such words, others argue that their inclusion is necessary in order to accurately depict the racial climate in America at those times. To remove the word, advocates say, would be to whitewash history. Moreover, both novels actually center around anti-racism messages. Focusing on the language, the behavior of the antagonists, or failing to acknowledge the tone of the books completely misses the point.
According to the Delmarva Daily Times, Nandua High School principal George Parker said that the committee has already met once, and has plans to meet again before making a final decision. About 50 people rallied at the Accomack County courthouse on Friday in support of the books, and also gathered signatures on a petition to hold elections for school board members (currently, they are appointed). The Accomack County School Board will meet on Dec. 13 at Chincoteague Elementary School, and the public will be invited to comment. Accomack County Public Schools superintendent Chris Holland can be reached at 757-787-5754 or emailed through the school district's website.