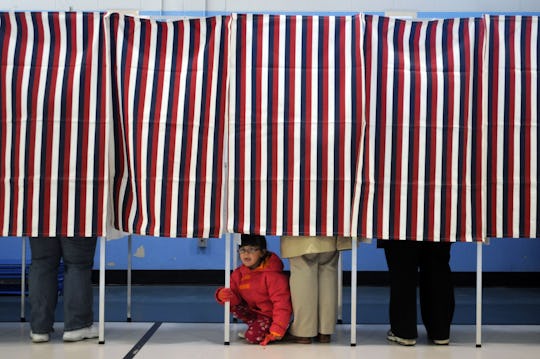 Darren McCollester/Getty Images News/Getty Images
Vote Like Your Mental Health Depends On It... Because It Does
Those stress headaches over the past year are not a figment of your imagination. Election night 2016, and what has followed, has impacted the mental health of the country, according to researchers. And for the Trans Americans, Muslims, immigrants, people of color, Jewish Americans, and women most affected by government policies over the past two years, the best course of treatment is voting in the midterm elections. It's vital that we all vote like our mental health depends on it... because it does.
A recent study of undergraduates at Arizona State University found 25 percent of students had PTSD-like symptoms as a result of the 2016 election. While the study was limited in scope and did not determine whether or not the election will have a long-term effect on mental health, researchers concluded that the election was a source of stress and constituted a "traumatic event," as The Guardian reported.
Of course, it's not just the election itself that has negatively impacted the mental health of Americans across the country. Nearly seven in 10 Americans "feel worn out by the amount of news there is these days," according to a Pew Research Center report. After a memo outlining the Trump administration's plan to erase any recognition of trans people under federal law was published by The New York Times, calls to Trans Lifeline quadrupled, and calls to The Trevor Project nearly doubled. During the Senate Judiciary Committee hearing of now-Supreme Court Justice Judge Kavanaugh and his accuser, Dr. Christine Blasey Ford, calls to the National Sexual Assault Hotline increased an astounding 200 percent.
What our elected officials say, the policies they champion, and the laws they enact impact our lives, which is why it's so important to not only stay politically engaged but consistently active in the political process. And, yes, that means voting.
According to the United States Census Bureau, 4.6 million more people voted in the 2016 election than the 2012 election. But the majority of those additional voters were 65 years old or older. "What I find is that there are literally millions of millennials, and young adults, people who are 35 and younger, did not vote in the 2016 election for a variety of reasons," Dr. Sherry Benton, a practicing psychologist and Founder and Chief Science Officer at TAO Connect, tells Romper by phone. "And they had really no idea how crazy and chaotic things could be. It had not dawned on them that that was a possibility."
People have experienced anxiety symptoms, difficulty sleeping, and sometimes, getting transfixed by the endless news cycle. And voting can ease those symptoms.
After a devastating week of domestic terrorism — in which a Trump supporter mailed pipe bombs to prominent Democrats and CNN often targeted by President Donald Trump, a white man shot and killed two African Americans in a hate crime, and another white man walked into a synagogue in Philadelphia and murdered 11 Jewish Americans after shouting "All Jews must die" — now more than ever a feeling of hopelessness and incapacitation has gripped a large population of the country. But voting can help those same individuals shuck those feelings and take back the power that many feel has been stripped from them.
"Last week more than at any other time... that sense of security and predictability in the world [has been] just completely eroded," Dr. Benton says. "It can leave them feeling like the world is a dangerous place and they have no control over it. And I think that the value of being involved politically and voting is that it can restore that sense of there's things I can do."
Dr. Benton says being involved in the political process, donating your time or money to political organizations, and actively voting can help someone feel powerful, feel like they have influence, and help ease anxiety. So while voting is often viewed as a "stressful" democratic obligation — a constitutional right that's more of an impediment than a freedom fought for by the disenfranchised generations that came before us — it can actually help reduce stress and improve mental health.
Failing to vote, however, can lead to what is referred to as the "political cycle of depression," according to a 2015 study published in Social Science Quarterly. This cycle involves three steps, per researchers: "Individuals with depression are unlikely to participate in the political process, the lack of participation leads to underrepresentation and a lack of policies that benefit those with depression, and the lack of beneficial policy outcomes perpetuates the experience of depression."
Instances of Republicans attempting to curtail voting rights have been well-documented; continued GOP control of the three branches of the government will mean GOP control of redistricting committees, further enacting of voter ID laws and purge voting rolls, and continued efforts to stack the courts with justices hostile to voter rights. This means individuals will not only have a harder time voting in the next election but will likely be mentally impacted by the continued inability to vote... for decades to come.
That's not to say, of course, that voting is a "quick fix" to anyone's mental health problems. Exercising your constitutional right to vote shouldn't take the place of professional mental health care. And Dr. Benton does suggest that people take a break from politics, too. "I also think doing things that are completely away from politics is helpful," she says. "Doing social service, like helping with a Friday evening dinner for the homeless, doing things with churches, coaching little league, doing whatever it does that gives your life a sense of meaning and purpose is useful."
Not only can voting improve your mental health, but it can ensure mental health services remain available for everyone.
But the impact of the presidential election and the current administration cannot be overstated, Dr. Benton says, and going to the voting booth on election day can minimize the negative effects of that impact for a large population of people, especially those who are being targeted by Trump's proposed legislations. According to Dr. Benton people have experienced anxiety symptoms, difficulty sleeping, and sometimes, getting transfixed by the endless news cycle. And voting can ease those symptoms. "When we take action, that by itself will reduce the anxiety," Dr. Benton says.
And since the House GOP's 2019 budget has called for $537 billion in cuts to Medicare and $1.5 trillion in cuts to Medicaid — which offers mental health services, as well as other health care, to a reported 74.8 million people — not only can voting improve your mental health, but it can ensure mental health services remain available for everyone.
There's no denying that our elected officials wield a large amount of power and, as a result, have the ability to impact our lives in both big and small ways. But we cannot forget: they work for us. If an employee was devastating your mental health at the work place or at home, you would terminate their employment. On November 6, 2018, the American people have the chance to vote for their political employees who will help, not hurt, their lives.
So vote.