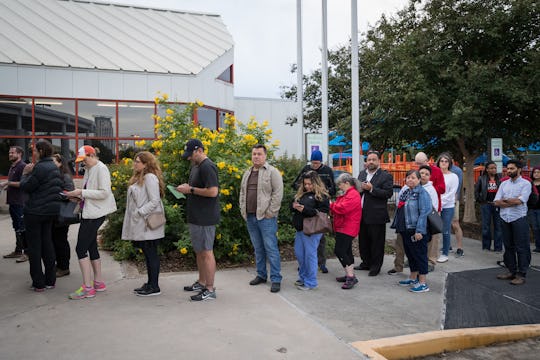 Loren Elliott/Getty Images News/Getty Images
Waiting In A Long Line To Vote? This Nonprofit Will Send Voters Free Pizza
The day has almost arrived. On Tuesday, Nov. 6, U.S. citizens across the nation will head to the polls and cast their ballots for the 2018 midterm elections. Even though plenty of people have already taken advantage of early voting — or have cast their absentee ballots — the bulk of voters will likely be showing up in-person tomorrow. And depending on when you head out to your voting location, there's a pretty good chance you'll be standing around for a bit. So what's a hungry citizen to do if they're stuck waiting in a long line to vote? This nonprofit will send voters free pizza if you provide photo evidence.
Yes, you read that correctly: Free pizza! The non-profit organization Pizza to the Polls was actually created in 2016, and the group is at it again for the 2018 midterm election. Its mission? Feed hungry people who are trying to carry out their civic duty if they're stuck in long lines. "Americans are hungry for democracy and are turning out in record numbers to vote. But that means long lines and sometimes empty stomachs, which might discourage these brave patriots from performing their civic duty," the organization's website reads, according to Food & Wine. "Fortunately Pizza to the Polls is here to deliver the one thing that pairs so perfectly with freedom: piping hot 'za. Send us reports of long lines and we'll send in the delicious reinforcements."
According to the Pizza to the Polls website, more than $43,000 has been raised so far in 2018. And already (during the early voting period,) 1,066 pizzas have been sent to 79 different polling places across the nation. And there's still $24,742 remaining in the pizza fund to use up on Election Day. (Plus whatever money comes in today and tomorrow, too.) Whatever money they have left over will go toward purchasing pizzas for future elections.
So how does it work, exactly, for those who do find themselves in a seemingly endless line tomorrow? As Scary Mommy reported, if you're stuck in a line at the polls, simply collect photo evidence and share it on social media — making sure that your post is public. Next, you can head over to Polls.pizza and fill out the form. You'll need to paste the link to your social media post, and then enter the location of your polling place, along with your phone number and email address. Voila! Pizza to the Polls will see your request and then pay for and send some pizzas your way. (And don't worry, the pizza is offered to anyone there who happens to be hungry, regardless of political affiliation.)
According to Delish, those who believe feeding voters is a worthy cause are encouraged to head on over to the Pizza to the Polls website and donate. The organization has managed to raise more than $95,000 since it started in 2016. (That's a lot of pizza!)
Although I typically make it a point to take advantage of early voting — to specifically avoid lines — I think Pizza to the Polls is a brilliant idea. Because how discouraging would it be to not only have to wait forever to cast you ballot, but to be standing around forever on an empty stomach. Or worse — with young children in tow. Sounds like some special kind of torture to me.
So be sure to bookmark Polls.pizza and already have the address of your polling location handy. Because if crowds are especially large and you're going to be there for hours, I'm pretty sure your fellow voters will appreciate the free pizza as much as you will.