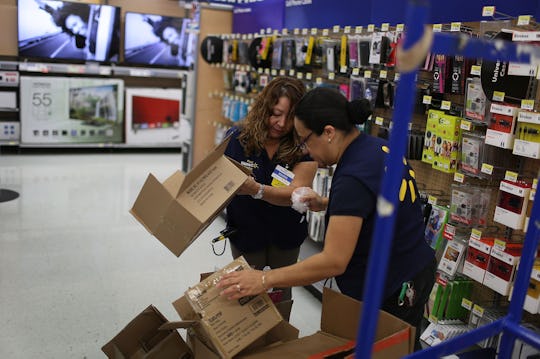 Joe Raedle/Getty Images News/Getty Images
Walmart Stocks More Hatchimals Ahead Of The Holiday Rush & Last-Minute Buyers Rejoice
If you're one of the few people just now hearing about Hatchimals and their "must-have" status, take a deep breath. There still might be a way to get one for your kids, as Walmart is stocking more Hatchimals before the holidays. Totally canceling your eBay and Google alerts is not recommended, but with a little hard work, a Hatchimal could be yours before the New Year.
The company behind the hot-ticket item recently posted a pop-up note on its website that reads, "While additional product will hit retail shelves in December, we anticipate this inventory will sell out quickly. We have increased production and a whole new batch of Hatchimals ready to hatch in early 2017."
Walmart specifically wrote on its official Facebook page that its stores would be getting a few of them too. However, the company noted in a customer comment response that Hatchimals "will be available in stores only" and that "supplies of Hatchimals are very limited."
"We will be offering as many as the manufacturer can supply," the company wrote on its page. "Please visit your local Walmart or contact the store to see if they are still in stock."
Seriously, there are weather warnings that sound less ominous, right? The preemptive notice from Walmart, and other retailers like Target and Toys R Us, is that you will have to wait in line (or possibly trade a limb, your sanity, or your first-born child — though you might have a dilemma on your hands at that point) to get your hands on a Hatchimal and have it all wrapped up in a bow before Christmas. But don't despair just yet.
Along with Walmart, other retailers are also expected to have some in stock before the end of the year. Toys 'R' Us wrote on its Facebook page recently that it expects to get another shipment in soon, but that shoppers should check with local stores first. So you're going to want to make a phone calls and beg and plead (kindly, please) with a sales rep at your local store to get one put on hold — if they're even able to do that.
Target has been a bit more specific, saying that it plans to get a shipment dispersed to stores nationwide starting Dec. 11. (There is a limit of two Hatchimals per customer, so rally the troops.) Target will also have special Hatchimal gift cards that customers can use after the holiday when there will more be available if you know a particularly judicious kid who won't mind a little delayed gratification. Good luck with that, right?
Be careful out there. The Hatchimal craze has gotten so out of control that eBay might be the only option if you can't grab one at Walmart once they're restocked. It's frustrating that there are people out there who buy up popular items only to resell them, but in a pinch, it might be your last bet, especially if time is running out. The toy retails for $59.99 though — so just know what's worth it or not and only crack open your wallet if you know for sure that you're getting the real deal.