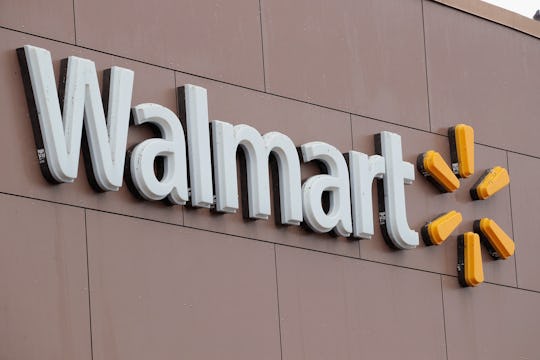 Scott Olson/Getty Images News/Getty Images
Walmart Raised The Minimum Age To Buy Guns & Ammunition — & It's About Time
It's been more than two weeks now since a 19-year-old walked into a Parkland, Florida, high school and killed 17 students and teachers with a semi-automatic rifle. And it seems society is finally waking up to the consequences of toxic gun culture in the United States. Organized by teenage survivors of this most recent mass school shooting, a nation-wide March for Our Lives protest is set for March 24. Students and teachers across the country are also participating in school walk-outs. Although the government has yet to take concrete action against gun violence, major corporations are taking charge one by one. Most recently, it was announced that Walmart will no longer sell guns and ammunition to anyone under 21. And it's about time.
On Feb. 28, the mass retailer revealed its new policy, which is effective immediately. "In light of recent events, we've taken an opportunity to review our policy on firearm sales," Walmart said in a press release. "Going forward, we are raising the age restriction for purchase of firearms and ammunition to 21 years of age. We will update our processes as quickly as possible to implement this change."
Additionally, Walmart noted other measures that it is taking — including the removal of items from its website that resemble assault-style rifles, like airsoft guns and toys. "Our heritage as a company has always been in serving sportsmen and hunters, and we will continue to do so in a responsible way," the company added in the statement.
Walmart also took the opportunity to remind its customers that the sale of sporting rifles, including the AR-15, ended back in 2015, as Business Insider also pointed out. Furthermore, Walmart only sells handguns in Alaska, and does not sell bump stocks or high-capacity magazines. The statement continued:
We take seriously our obligation to be a responsible seller of firearms and go beyond Federal law by requiring customers to pass a background check before purchasing any firearm. The law would allow the sale of a firearm if no response to a background check request has been received within three business days, but our policy prohibits the sale until an approval is given.
Walmart's latest policy changes come on the heels of Dick's Sporting Goods announcing it will no longer sell assault-style rifles or high-capacity magazines, and it has raised the minimum age for purchasing guns to 21, CBS News reported.
On Wednesday, Dick's CEO Edward Stack appeared on ABC's Good Morning America to discuss the move, as TIME reported. "As we looked at what happened down in Parkland, we were so sad and disheartened, we felt we really need to do something," Stack said, noting that the 19-year-old Parkland shooter had reportedly purchased a gun from Dick's before, although it wasn't the style of gun used during the mass shooting. "We did everything by the book. We did everything that the law required. And still he was able to buy a gun," Stack told the news outlet. Dick's CEO credited survivors of the mass school shooting as the company's inspiration to take action, adding:
If the kids can be brave enough to organize like this, we can be brave enough to take these out of here.
And on Thursday, Kroger announced it would no longer sell guns to buyers under age 21 at its Fred Myer locations, USA Today reported.
In fact, the only major retailer that is still selling semi-automatic assault rifles at this point is Bass Pro Shops (which includes Cabela's,) as TIME reported. Romper's request for comment from Bass Pro Shops was not immediately returned.
This bold action by major retailers is definitely refreshing. But many are still calling for the U.S. government to take charge and pass common sense legislation on gun safety.
Because even if all major retailers ban assault-style rifles and raise the age minimum for purchases firearms, the fact remains: Teenagers can still buy them from private dealers and gun shows, as reported by ABC News. And that is completely unacceptable. What's needed now is a nation-wide ban on assault rifles. As columnist and editor Eugene Robinson wrote in an opinion piece for The Washington Post:
Freedom is possible, however, without the right to buy military weapons designed for killing sprees. Banning them would not end mass killings, but it would mean fewer deaths. If we do not act, the blood of future victims will be on all of our hands.
If legislators again fail to consider serious gun safety measures, it's not a matter of "if" another mass shooting will happen — but sadly, when.