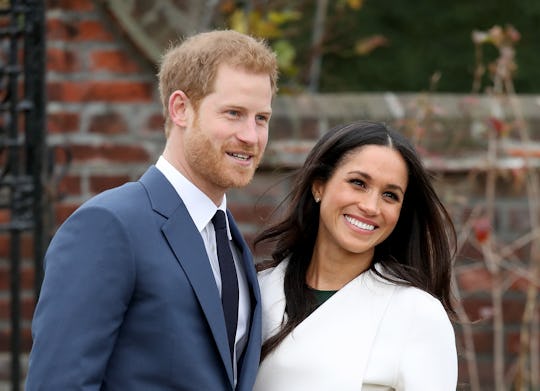 Chris Jackson/Chris Jackson Collection/Getty Images
Prince Harry & Meghan Markle Are Inviting Normals To Their Wedding, So Prepare Your Speech Now
It's no secret that Prince Harry and Meghan Markle are doing things differently when it comes to their wedding, and the guest list is no exception. The couple will welcome thousands of people to join in on the matrimonial festivities. That's one guest list that I would love to be on. But can you attend Prince Harry and Meghan Markle's wedding? It's not quite that simple, unfortunately.
A recent statement from Kensington Palace shared that Prince Harry and Markle will allow 2,640 people into Windsor Castle to view the arrivals at their wedding on May 19. With such a large guest list, it's only natural to wonder if the likes of me and you would be welcome to attend. However, there are some restrictions on just who can don a ridiculous hat and show up on the big day.
The 1,2000 members of the general public will be chosen from all over the U.K., after being nominated by the nine regional Lord Lieutenant offices, according to CBC. The only specification that the couple gave was that the guests be chosen to include "a broad range of backgrounds and ages, including young people who have shown strong leadership, and those who have served their communities."
Along with these 1,200, there will also be 200 attendees from a range of charities and associations, 100 pupils from two local schools — The Royal School, Great Park, Windsor, and St. George's School, Windsor Castle — 610 Windsor Castle community members, and 530 Members of The Royal Households and Crown Estate, The Independent reported. If you don't fall into one of these categories, chances are you won't be receiving an invite.
The decision to invite so much of the public came from a desire to share their celebration with as many people as possible. The statement released by Kensington Palace explained as much:
Prince Harry and Ms. Meghan Markle have said they want their Wedding Day to be shaped so as to allow members of the public to feel part of the celebrations too.
That effort for inclusion doesn't stop with the thousands of people invited to attend the wedding. Kensington Palace announced in February that Prince Harry and Markle would hold a carriage procession immediately after their main wedding ceremony, according to Vanity Fair, and they invite the public to come and see them off.
The statement released by a palace spokesman explained that the public support has meant a lot to them:
Prince Harry and Ms. Meghan Markle are hugely grateful for the many good wishes they have received since announcing their engagement ... They hope this short journey will provide an opportunity for more people to come together around Windsor and to enjoy the atmosphere of this special day.
Along with a desire to include their supporters in their big day, Prince Harry and Markle are also inviting the public in an effort to be true to themselves. The statement released by Kensington Palace on Friday said, "This wedding, like all weddings, will be a moment of fun and joy that will reflect the characters and values of the Bride and Groom."
The couple has made a substantial effort to make their wedding uniquely theirs, breaking a few traditions along the way. For one thing, Markle will be giving a speech at the wedding reception rather than leaving it to their father. She has planned an "affection" tribute to her new family, according to the Sunday Times, including a message to her new husband and the Queen. Another surprise, Markle's mother will be walking her down the aisle, Us Weekly reported.
Additionally, the wedding will be held on a Saturday whereas most royal weddings — including those of Princess Diana and Prince Charles and Kate Middleton and Prince William are held on a weekday— according to E! News, perhaps in an attempt to make it easier to attend. My personal favorite break in tradition is the rumor circulating that the ceremony will include a banana cake. My own wedding included a banana pudding groom's cake, so that makes me practically royal, right?
All signs point towards the coming royal wedding being one for the books. With the happy couple actively involved in the planning process, I have no doubt that it will be just as special as they are.
Check out Romper's new video series, Bearing The Motherload, where disagreeing parents from different sides of an issue sit down with a mediator and talk about how to support (and not judge) each other's parenting perspectives. New episodes air Mondays on Facebook.