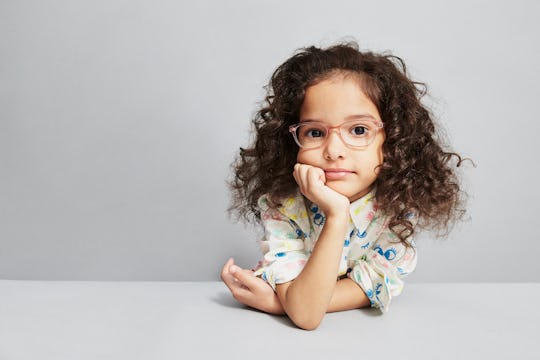 Warby Parker
Glasses Brand Warby Parker Finally Launches A Kids Line & It's Too Cute
If your kid needs glasses, there are some new and exciting options on the table. Because Warby Parker has launched a kid's line of glasses, your kiddo can rock sleek, modern frames just like grown ups. It is the first time Warby Parker's signature style has been offered for children. Wearing cool glasses might become the biggest kid trend since fidget spinners.
Today Warby Parker officially launches Warby Parker for Kids in all of its New York City locations. During the 12-week pilot program, kids are welcome to drop by any NYC store to try on the collection (with parental supervision, natch). The frames can be purchased and picked up in store, or even shipped nationwide.
Known for their modern, affordable frames, Warby Parker will bring its same quality and style to the kids line. With the introduction of Warby Parker for Kids, the child-sized glasses will be offered in two frame sizes. Jr. is for kids age 8 and older, whereas the Jr. Jr. size is fit for 4 to 7 year old kids.
Best of all, the kid frames are scaled-down versions of Warby Parker's most-loved existing adult styles: the Chamberlain, Daisy, Louise, Lyle, Percey, and Wilkie. Each comes in a variety of hues as well, so your kid can enjoy a personalized pair of frames and they can go for a pair that is as neutral or eclectic as they want them to be.
In addition, the kid-sized glasses are made from the same quality materials as the adult-sized Warby Parker frames. This means the frames are built from cellulose acetate, which is a great material for durable eyeglasses frames. In addition, the lenses are made from impact-resistant polycarbonate, so they can last around active kids. Plus, the anti-reflective, scratch-resistant, and 100 percent UV protected lenses offer a lot of protection for your little one's eyes.
In another bit of great news for parents, the Warby Parker for Kids frames start at only $95, and this includes prescription lenses — what? If you have been shopping for glasses lately, then you know this is a fraction of the typical cost. For the typical eyeglasses manufacturer, even tiny frames can still cost an arm and a leg.
Plus, there is still more to love about the Warby Parker business model, which supports philanthropic endeavors. With Warby Parker for Kids, each pair of glasses purchased during the pilot program will contribute to the Pupils Project program, which offers free vision screenings, eye exams, and even eyeglasses for children in New York City's Community Schools. Overall, the company promotes eye health for all kids through the one-for-one charity model that the brand is known for.
Speaking of which, even if your kid appears to have perfect vision, it may be time for an eye exam. As explained by the American Optometric Association, children who are not at risk of vision difficulties need an eye exam at age 3, prior to the first grade, and then every two years afterward. Kids who are at risk of vision problems may need much more frequent check-ups. Proper eyesight helps your kid read and learn much more easily, so it should definitely be monitored and maintained.
The launch of kid-sized frames comes as a response to overwhelming customer demand. "Over the years, we've heard from customers on the hunt for smaller — but just as good-looking — options for their kids. The opportunity to give them a stress-free, fun, and affordable experience to shop for glasses has been one of the best ways to jumpstart the new year. These are definitely the glasses I wish I had growing up," said Dave Gilboa, co-CEO and co-founder. Chances are, your kid will love the frames as much as you do.
Check out Romper's new video series, Bearing The Motherload, where disagreeing parents from different sides of an issue sit down with a mediator and talk about how to support (and not judge) each other's parenting perspectives. New episodes air Mondays on Facebook.