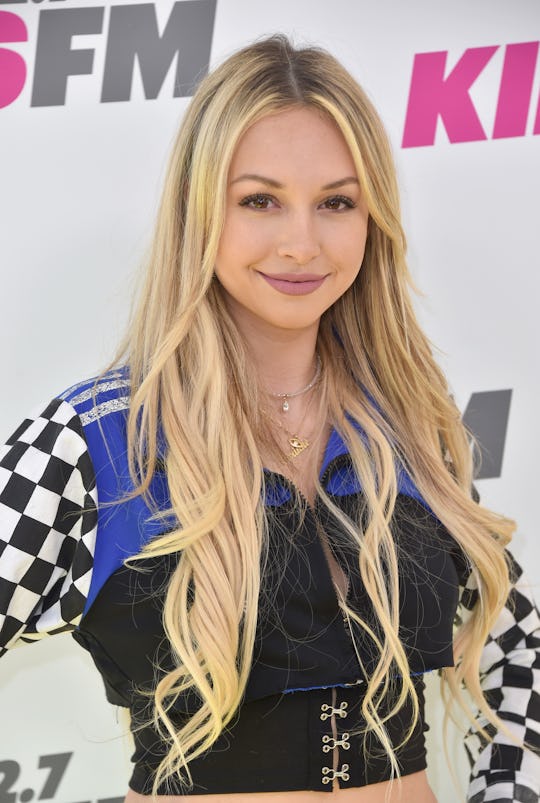 Frazer Harrison/Getty Images Entertainment/Getty Images
Warner Bros. Says No Sexual Assault On 'Bachelor In Paradise'
According to TMZ, the investigation into alleged sexual assault on Bachelor in Paradise has concluded. Warner Bros. has decided there was no sexual assault, in regards to an incident in which a producer alleged that Corinne Olympios was too drunk to consent to a sexual act in a swimming pool with fellow Bachelor in Paradise star, DeMario Jackson. Basically, Warner Bros. has reportedly concluded that no sexual assault occurred on Bachelor in Paradise, amidst a scandal that got production of the show shut down briefly.
TMZ reported that several people who saw the video claim Olympios was "'fully engaged' and lucid throughout the sexual encounter." In addition, Jackson's lawyer met with lawyers from Warner Bros. on Monday, and after they reviewed the tapes, the lawyer assured Jackson he was in the clear when it came to the incident, according to the outlet.
E! Online has reported that Warner Bros. has cleared Bachelor in Paradise and its producers of any possible misconduct, and that the investigation was a result of production having stopped due to allegations of potential misconduct, which Warner Bros. confirmed to E! News on June 11.
When news of the alleged misconduct broke, Warner Bros. said in an email statement to Romper:
We have become aware of allegations of misconduct on the set of Bachelor in Paradise in Mexico. We have suspended production and we are conducting a thorough investigation of these allegations. Once the investigation is complete, we will take appropriate responsive action.
Now, it sounds like that investigation is complete, and no further action is apparently needed. The company's full statement, released Tuesday, can be read in the below tweet.
Warner Brothers stated that production of this season of Bachelor in Paradise will begin again now that its investigation has concluded.
The statement, posted in the tweet linked above, started out, "As we previously stated, we recently became aware of allegations regarding an incident on the set of Bachelor in Paradise in Mexico. We take all such allegations seriously." Which is a great thing, because sometimes allegations of sexual assault are not taken seriously.
The statement went on to say that filming was suspended to investigate the alleged incident, but that the investigation has ended and that a tape that includes a scene of the misconduct being scrutinized "does not support any charge of misconduct by a cast member." The statement emphasized that the tape in question did not show that the safety of any contestant or cast member on the show was ever in jeopardy, and that it will not be released, for the sake of their privacy.
Not long after news of the alleged incident broke, both Olympios and Jackson reportedly spoke about the controversy. According to a different TMZ article, sources told the outlet that Olympios said she remembers nothing about the alleged sexual assault. According to Deadline, she released a statement about the event which read, in part:
I am a victim and have spent the last week trying to make sense of what happened on June 4. Although I have little memory of that night, something bad obviously took place, which I understand is why production on the show has now been suspended and a producer on the show has filed a complaint against the production. As a woman, this is my worst nightmare and it has now become my reality.
But Jackson said in a statement to E! News that his character "has been assassinated" by the scandal — and that the claims of any alleged misconduct are false. The statement, released via his publicist, Eve Sarkisyan-Nunn, said:
It's unfortunate that my character and family name has been assassinated this past week with false claims and malicious allegations. I will be taking swift and appropriate legal action until my name is cleared and, per the advice of legal counsel, will be seeking all available remedies entitled to me under the laws.
And although it sounds like Warner Brothers has decided that the whole incident was all above board, and no misconduct or sexual assault took place, it's a little troubling that many fans were concerned and disappointed by a possible cancelation of the show, rather than concerned about an alleged sexual assault or misconduct incident.
The National Organization for Women, New York City chapter, reported that more than one million women are raped in the United States yearly, and that one in five women will be raped in her lifetime. Sexual assault allegations need to be taken seriously every single time.
It appears that this time, Warner Bros. took the allegation very seriously, and made sure to investigate before anything in regards to Bachelor in Paradise could move forward, and that's a very good thing.