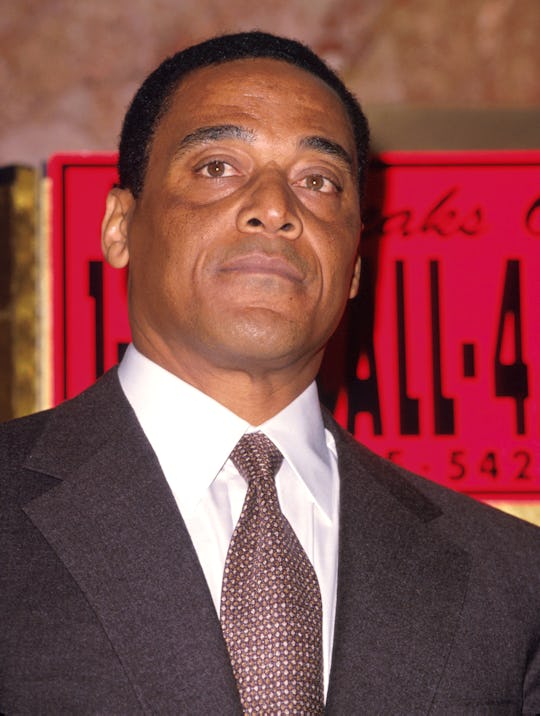 SGranitz/WireImage/Getty Images
Was AC Cowlings Charged for Helping OJ Simpson Escape? The Car Chase Went Down In History
O.J. Simpson and Al "AC" Cowlings were "ride or die" before it was a thing. Cowlings was Simpson's best friend from childhood, a former teammate and the driver of the now-infamous White Bronco that the police slowly chased of OJ through the streets of LA more than two decades ago. But was Cowlings ever charged with a crime for his role in the 1994 White Bronco car chase? The People v. O.J. Simpson: American Crime Story doesn't get into the details of their relationship as much as it could.
The short answer to whether Cowlings was charged is both yes and no. Cowling's attempt at a getaway hardly seemed sincere, given the slow meander through the busy streets of Los Angeles with a trail of cops and helicopters. There was no chance of escaping capture on that fateful drive from Orange County to Simpson's Brentwood manse. And it was Cowlings who eventually worked with police to negotiate Simpson's eventual surrender.
Cowlings was arrested for his part in the whole car chase, charged with "aiding a fugitive" the New York Times reported. But, eventually, prosecutors dropped the case over a lack of evidence. Or maybe they just understood he was a guy in a tough spot trying to talk his BFF through what was probably the worst day of his life.
So, it seems like LA prosecutors decided to give Cowlings a break.
Friends of Simpson and Cowlings reported to the LA Times they were hardly surprised that it was Cowlings who Simpson called in his time of desperation and that it painted a picture of a bond between the two that was utterly unbreakable — that even survived Simpson stealing, and eventually marrying, the object of Cowlings' affection, Marguerite Whitley.
And Cowlings remained one of Simpson's stanches defenders throughout the trial. Long before social media and smartphones, Cowlings set up a 900 phone number for the public to call that would play recorded messages in defense of Simpson and his role in the murder of his wife, Nicole Brown Simpson and waiter Ron Goldman. Simpson was acquitted of the charges.
So yes, technically Cowlings' role in Simpson's escape was illegal and did wind up getting him charged with a crime. But, he was never prosecuted and walked away without legal jeopardy. He remains as a central figure in one of the most shocking celebrity escapes of all time.