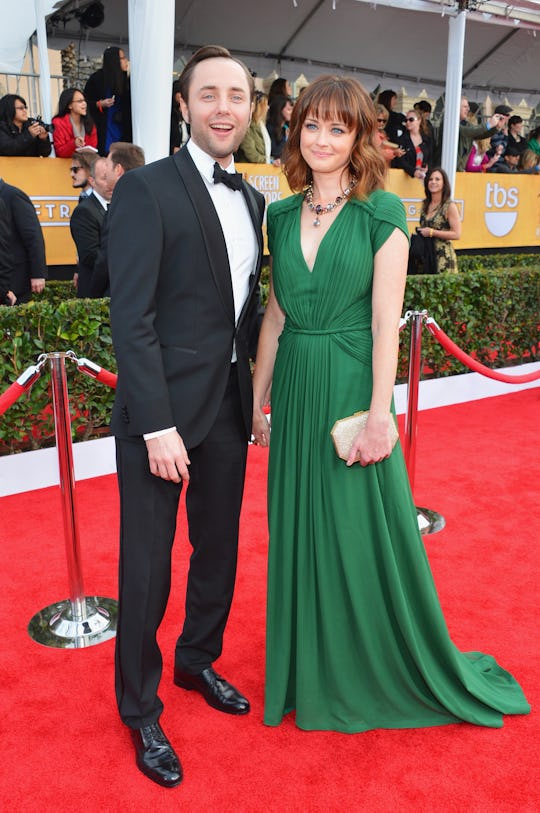 Alberto E. Rodriguez/Getty Images Entertainment/Getty Images
Was Alexis Bledel Pregnant During 'Gilmore Girls' Filming? It's Entirely Plausible
As if more good things could not come out of the Gilmore Girls reunion, more good news has arrived. No, it doesn't have anything to do with Jess, Dean, or Logan, it has something to do with Rory, or Alexis Bledel, who plays Rory on the show. Bledel's representative confirmed the exciting news that Bledel gave birth to a baby boy. Which begs fans to ask, was Alexis Bledel pregnant during the Gilmore Girls filming?
The even bigger question: Since when was Alexis Bledel pregnant? According to E! News, Bledel welcomed a baby boy with her husband Vincent Kartheiser this past fall. Yes, this past fall. Meaning Bledel was able to keep the baby a secret for the past six months or so. But was Bledel pregnant while shooting the Gilmore Girls revival?
While it is entirely plausible she was pregnant, Bledel could have also already had her baby by then. In October 2o15, rumors started swirling on the Internet of a rumored reunion special, with certain TV websites reporting that a Gilmore Girls reunion was in the works. By January 2016, various Twitter users posted pictures of the Warner Bros. lot being spruced up with a fresh coat of paint for the still unconfirmed revival. By early February the revival had begun shooting and its stars were posting pictures from the set.
However, going by Bledel's representative's statement, and the reunion's timeline, Bledel had already had her baby by the time that shooting for the reunion had begun. While "fall" is an ambiguous term, the season is loosely defined as the months of September, October, and November in the Northern Hemisphere.
Therefore if shooting had begun in February, Bledel would have already had her baby by then. However, until the day of the baby's birth is released, it is still purely speculation and theory as to when Bledel was pregnant and whether or not she was while filming.
It is no surprise that Bledel was able to keep such a big secret under wraps. The incredibly private star married her husband in an equally private ceremony in summer 2014. In November, Celebuzz reported that couple was expecting a baby and colleagues were seen congratulating Kartheiser at a premiere back in November. However, the couple's representatives never responded to requests for comments and due to Bledel's private nature, was never photographed with a baby bump.
But more recently, Bledel's co-star, Scott Patterson, who plays Luke Danes on Gilmore Girls might have spilled the beans. In a very recent interview with Glamour Magazine, Patterson had nothing but nice things to say about Bledel, including something about motherhood that was very telling.
"She's really blossomed as a woman and now she's a proud new mother and married and happy... we're comparing notes because my son is about a year and a half older than her young son," Patterson said.
Despite the question that lingers in the air, I am so incredibly happy for Bledel — and I am now even more excited for the Gilmore Girls reunion... because a pregnant Rory would definitely spice up the storyline.