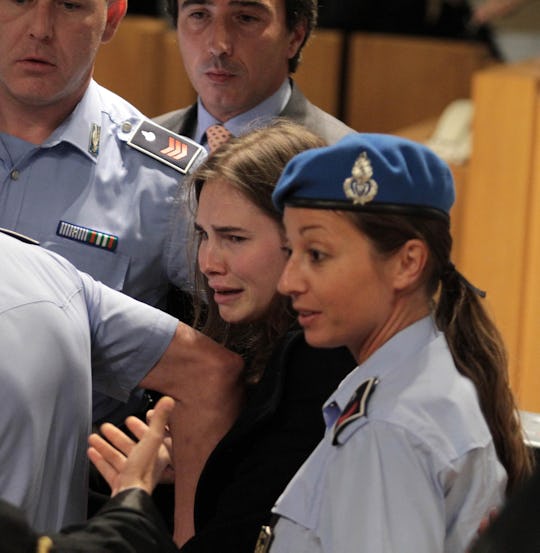 AFP/AFP/Getty Images
Was Amanda Knox Convicted Of Killing Meredith Kercher? It Is A Complicated Answer
True crime is having a moment. Serial, Making a Murderer, The Jinx, The Case of: Jonbenét Ramsey; all of these programs have capitalized on the public's fascination with true crime cases, both the salacious and the tragic. On Sept. 30, Netflix is releasing yet another true crime documentary, this one about Amanda Knox and the murder of her roommate, Meredith Kercher, in Perugia, Italy in 2007. The case was breathlessly chronicled by the tabloids and didn't actually come to a conclusion until 2015, a full eight years after the murder. But, was Amanda Knox convicted of killing Meredith Kercher? She was convicted of the murder not once, but twice. But she was also twice retried and exonerated. Thus, her complex case continues to draw fascination.
The unofficial tagline for the Netflix documentary is a quote from Knox herself. "I'm either a psychopath in sheep's clothing. Or I am you." These two sentences are an apt description of how the world at large views Amanda Knox. At the time of the first trial, tabloid headlines blared that Kercher was killed in some sort of satanic sex ritual murder orgy and that Knox was a sex-crazed woman. Her childhood nickname, Foxy Knoxy (which she got for her skill on the soccer field) became twisted into something far more sinister.
According to a CNN timeline, in July 2008, Knox was officially charged with Meredith Kercher's murder (along with Guede and Sollecito). But, Guede asked for a fast-track trial, which took him off the same timeline as Sollecito and Knox. Later in the year (October 2008), Knox is indicted on murder charges, then found guilty in December 2009.
That's not where the story ends, of course, which is what makes this case so interesting. In October 2011, the 2009 ruling is overturned after an appeal. Knox was able to return to her home in Seattle, and resume a life out of the spotlight.
Or not. In March 2013, the Italian Supreme Court rules that Knox (and Sollecito) should stand trial again. This time, though, Knox is able to remain in the United States. In September 2013, the retrial began. Throughout the entire trial, Knox maintained her innocence. In April 2014, the two were convicted of murdering Meredith Kercher, again, only for the convictions to be overturned in March 2015.
So, was Amanda Knox convicted for Meredith Kercher's murder? Yes, she was. Twice. But, she was ultimately freed from the crime the Italian judicial system finally decided she played no part in, almost 10 years after the fact.