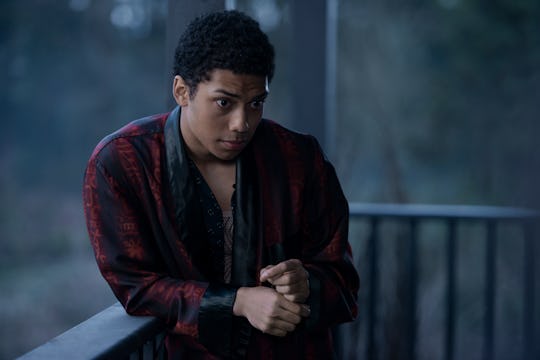 Diyah Pera/Netflix
Ambrose Is Sabrina's Mischievous Cousin On 'The Chilling Adventures Of Sabrina'
Netflix's new supernatural series, The Chilling Adventures of Sabrina, follows your favorite teenage witch as she transitions into her new life as a full-fledged witch. The show is far different than Sabrina incarnations of the past, and features a few unfamiliar characters. Sabrina's warlock cousin, Ambrose Spellman, plays a big part in the series, but was Ambrose in the Sabrina comics?
Ambrose Spellman first appeared in issue #77 of Sabrina the Teenage Witch comics in 1971, and according to Riverdale Wikia, he was described as "a middle-aged, plump man with black hair and mustache" who was bold and had a keen fashion sense. But in the new Netflix version, Ambrose (Chance Perdomo) may be an old British warlock but he still looks like a spring chicken. Also, he has been banished to live in the Spellman house for the last 75 years.
The The Chilling Adventures of Sabrina is based on a 2014 comic book of the same name written by the show's creator, Roberto Aguirre-Sacasa, and tells a much darker tale than the original comics. When talking to Women Write About Comics in 2015, Aguirre-Sacasa said that he intentionally wrote Ambrose's character differently, making him a young man that Sabrina could connect with and relate to. "He's very different from how he was in the comic books. In the old comic books it was — it was cousin Ambrose but he was an older gentleman," said Aguirre-Sacasa. "I think we kind of wanted a friend Sabrina could talk to and I'm a big fan of the DC Comics character Klarion the Witch Boy, and I wanted us to have a witch boy, so Ambrose became the witch boy."
For the Netflix series, Aguirre-Sacasa kept true to his comic book version, and in an interview with Entertainment Weekly, he explained that he wanted to tell Sabrina's story on screen, but in a spookier way than the '90s sitcom. "The idea was to do a dark horror version of Sabrina, something that was more of a slow-burn horror, like The Exorcist and Rosemary's Baby and all those great satanic horror movies from the 1960s and 1970s," he told the outlet. "Sabrina has to stand up to the devil and these very formidable opponents — [and this season is] following her dark education. It's all part of a bigger arc, which is her trying to hold on to her humanity as her witch nature is developed."
With all the darkness Sabrina will face on the series, Cousin Ambrose is the quirky, but reliable ally she goes to for advice. In an interview with E! News, Perdomo described his character as a warlock who is kind and cares for Sabrina (Kiernan Shipka) at his core, but can't help his mischievous personality. "Think Jimi Hendrix, David Bowie, and Loki, and think, if they had some sort of a three-way magical baby, that is Ambrose Spellman," he said.
Perdomo also revealed that Ambrose's old age has given him a lifetime of experience, and he uses it to guide Sabrina in her new life as a witch. "If Sabrina was a superhero, he'd be her guy in the chair. [She's] always coming to him for advice because he's got a wealth of knowledge and a wealth of magical know-how, and she's one of the main things that tethers him to the real world."
It will be interesting to see how Ambrose and Sabrina's dynamic plays out in this first season. The Chilling Adventures of Sabrina isn't at all like the '70's comic books, but with its chilling storyline and modern characters, the series is going to be a thrill to watch.
The Chilling Adventures of Sabrina premieres on Friday, Oct. 26 on Netflix.