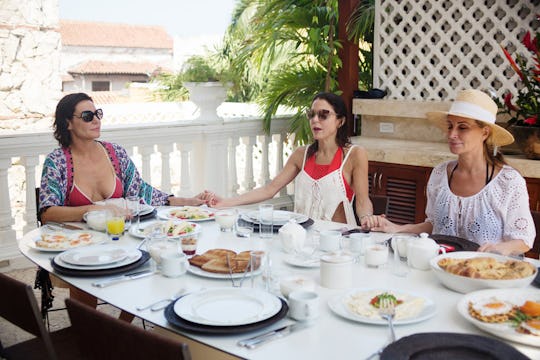 Paul Cheney/Bravo
The 'RHONY' Boat Accident Left The Cast Emotionally Scarred
One of the most anticipated moments this season on Real Housewives of New York emerged well before the trailer even dropped. Back in February, Page Six broke the story that on the girls' trip to Cartagena, Colombia, the women endured a death-defying yacht ride which required a rescue boat to come and save them. So was anyone injured in the RHONY boat accident? Initial reports have been disputed by Housewives and Andy Cohen alike.
What was supposed to be a five-star day trip on a luxury yacht turned out to be a jaunt on what Page Six called "an old, decrepit vessel."
"The boat was old, beaten up, and falling apart," an unnamed source told People. "There were no amenities, no food, and a crew that didn't know what they were doing. I mean, the anchor had to be sawed off before they even departed because it was so rusty and tangled. That's how bad this was!"
The Page Six report goes on to detail how the engine of the ship caught fire during their voyage and the boat began taking on water, with only a few life jackets to go around for the cast of seven, plus the film crew, plus the boat crew. Later, Cohen disputed this report, saying that the boat never caught fire nor was it in danger of sinking. Bethenny Frankel also confirmed that "the details being reported are false" in a tweet.
However, a harrowing incident definitely did take place, as we can now see from the trailer footage of the boat ride. The Housewives can clearly be seen screaming, crying, and generally panicking with genuine fear. People reports that both Carole and Tinsley got seasick from the rough waves, according to their anonymous source, and were throwing up overboard. We also know now that Ramona was spotted in a wheelchair at the airport was because she'd sprained her ankle before the trip. She'd been using a wheelchair to help her get around Cartagena the whole vacation, so that wasn't an injury brought on by the boating accident.
People also reported that someone caught a parasite and wound up spending part of the trip in a diaper, but it doesn't seem like the sufferer of that particular fate will be revealed on the show, if this is even true. (And honestly, we don't need to know all the details.)
The official Bravo statement on the matter, which was given to multiple news outlets, read:
"The Real Housewives of New York cast was recently on a boat in South America and encountered turbulent water. Thankfully, everyone is fine and was able to continue their vacation as planned. The safety of our cast and crew is paramount and, to that end, we are doing a full investigation."
So it doesn't sound like anyone suffered lasting injuries. However, Page Six did report that "the Housewives were all so traumatized by the experience that Bravo has offered them counseling." Regardless of whatever danger they were truly in, the perceived threat of it was surely very real. It's good to know that they're taking care of themselves following the incident.