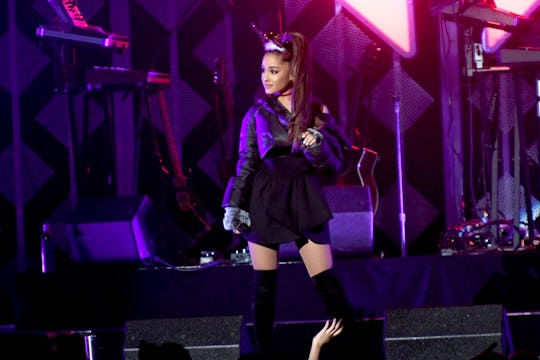 Paras Griffin/Getty Images Entertainment/Getty Images
Ariana Grande Unhurt In Manchester Arena Incident
On Monday night, thousands of Ariana Grande fans were evacuated from Manchester Arena after a loud sound was heard. Few details have been released, prompting fans abroad to ask: Was Ariana Grande hurt in the Manchester Arena incident? Fortunately, her rep told E! News that the singer was okay and that an investigation was currently underway.
UPDATE: BBC reported at 11:40 a.m. local time Tuesday that 22 people have been confirmed dead and 59 injured in the Manchester Arena explosion.
UPDATE: In a statement early Tuesday morning local time, Manchester Police spokespersons said, "Just before 10.35pm on Monday 22 May 2017, police were called to reports of an explosion at Manchester Arena. So far 19 people have been confirmed dead, with around 50 others injured. This is currently being treated as a terrorist incident until police know otherwise."
In a separate tweet on Monday night, Grande wrote, "broken. from the bottom of my heart, i am so so sorry. i don't have words."
EARLIER: Greater Manchester police confirmed on Twitter that emergency services were on the scene and that there were a number of fatalities and injuries. They asked the public to stay away from the scene as first responders worked. Other Twitter videos and photos showed a scene of panic as young concertgoers fled from the arena.
"Ariana is okay. We are further investigating what happened," Grande's rep told E! News on Monday evening. BIA — also known as Perico Princess — was Grande's opening act and also confirmed on Twitter that she was alright.
"GUYS WE ARE OKAY !!! THANK YOU WE LOVE YOU," BIA wrote.
The incident reportedly took place soon after Grande finished her performance. Several attendees told The Guardian that the arena lights had come on and that Grande had disappeared behind the curtain when the apparent explosion went off. Shortly after, the nearby Manchester Victoria station was evacuated and service was suspended.
According to The Guardian, ambulances, police, and a bomb disposal unit arrived at the Manchester Arena following the incident, which took place around 10:30 p.m. local time. NBC News reported that at least 19 people were killed in the incident and that at least 50 more were injured.
Strife Magazine advised worried guardians on Twitter to call the Holiday Inn nearby if they could not locate their children, writing: "If you or anyone you know has lost their child at the Ariana Grande concert in Manchester tonight, check the Holiday Inn." An attached note said the hotel had taken in over 50 children who had been at the event without a guardian.
More people on Twitter tweeted out their support and began to use the hashtag #RoomForManchester to let those affected find a room or couch to crash on for the night. According to BuzzFeed reporter Hannah Al-Othman, dozens of concert attendees found themselves stranded in Manchester after the incident. The city's North West Ambulance Service said many of its resources were at the arena at the moment, and urged others to only phone for life-threatening emergencies.
"The police are treating it as a live site, we don't know if this is the end or there are other incidents in that area," Pat Carney, council spokesman for the city centre, told the BBC. "Obviously everyone in the city is shocked, having seen how young some of these people are."
Further details have yet to be released, and the arena continues to be treated as a live site. Manchester police are still on the scene and working to release a phone number for concerned friends and relatives.