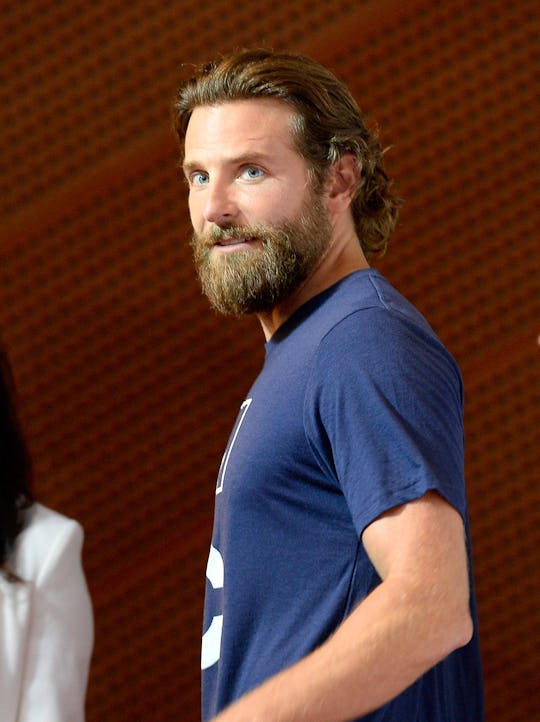 Kevork Djansezian/Getty Images Entertainment/Getty Images
Was Bradley Cooper At The Victoria's Secret Fashion Show? Irina Shayk Walked The Runway
Hours before walking in the Victoria's Secret Fashion Show on November 30, Irina Shayk and Bradley Cooper made the news that they're going to be parents to a baby in 2017 public. As the well wishes and love poured in from fans and industry friends all over the world, Shayk made her way down the runway like it was business as usual. So, was Bradley Cooper at the Victoria's Secret Fashion Show to watch the soon-to-be mother of his child on arguably the biggest night of fashion and lingerie? By all accounts, it doesn't look like Cooper was there. And if he was, he was definitely keeping a low, low profile.
At the show, Shayk's looks included a long trench coat and a red corset-romper-inspired look that kept eyes off her growing stomach and focused on her outfit as a whole. And according to a source who was backstage with the models on the night of the show, none of the other Angels had any idea that Shayk was expecting. The source told PEOPLE:
Looking back, some of her outfits were less revealing in the stomach and seeing the news after the show, it made sense. No one suspected backstage, that's for sure! She looked as beautiful as ever.
The source hinted that Shayk kept her pregnancy under wraps and it's not hard to understand why. So often in mainstream media and also for women who are out of the public eye, when you announce to the world and your respective circles that you're bearing new life, it's easy for everyone to forget that you exist and to focus solely on the baby inside of you. And on a night as big and as important as the Victoria's Secret Fashion Show, which has long been touted as the make-or-break moment for up-and-coming and established models, it's absolutely understandable that Shayk would want to keep attention off her pregnancy and square on her professional achievements.
Cooper was spotted in Los Angeles on a run with his trainer three days after the VS Fashion Show, which was held in Paris this year, so it's understandable that the parents-to-be might not have been together and that Cooper may not have made it to Paris to support his partner. Though there could be a million reasons why he wasn't there (or was there and kept an incredibly low profile), it's ultimately no one's business. Ultimately, the night was all about Shayk and her overwhelming successes, and that's a really wonderful reason celebrate.