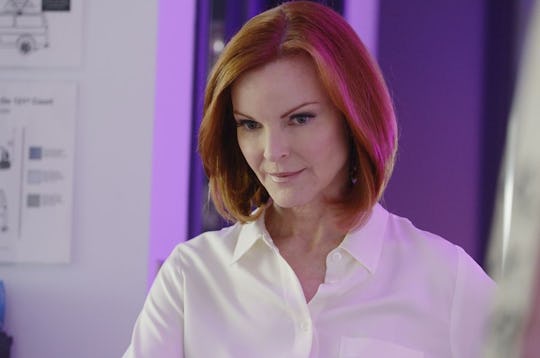 Philippe Bosse/ABC
Was Claire Haas Working With Liam On 'Quantico'? It Certainly Seems That Way
On the Quantico finale, we finally learned why Liam went out of his way to ruin the lives of those involved with the FBI. He had a chip on his shoulder. He felt that the FBI was being painted as an organization that helped people, but in his eyes, it was an organization that was corrupt and did a lot of damage. We knew he was the terrorist, but was he working with someone? More specifically, was Liam working with Claire Haas on Quantico in some sort of deal that allowed both of them to reap benefits?
One of the biggest loses of the finale was that of Simon Asher. He died a hero when he took a dive into a body of water inside an Escalade containing a bomb. He died to save his friends and the thousands of people on the Quantico base. At his funeral, Alex questioned Claire Haas, Caleb's mother, if she was at all working with Liam. It seems extreme, yes, but her rationale actually made sense.
At one point, the terrorist (Liam) told Alex to swap out Claire Haas' blood pressure pills for something else. The thing was, Alex learned that Claire Haas doesn't have high blood pressure, making the pills unnecessary. So why did Liam have her switch the pills out? That's a great question, and certainly something Alex is going to try to figure out now that she's no longer working with the FBI.
Another point against Claire is the fact that when the bomb went off, it seemed that she used the attack to remind her voters of her national security qualities while running for a spot on the ticket. It is a very extreme move, considering her husband (who was cheating on her, just saying) was killed in the process.
For what it is worth, Claire told Alex "You have no idea who I am" in the final moments of their interaction. Maybe Alex doesn't know who Claire is right now, but chances are she's going to try and find out. Alex is not one to just drop something, so Claire Haas has definitely found herself on the wrong side of a curious person.