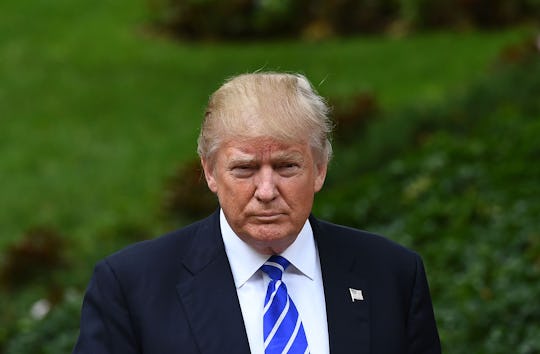 JEWEL SAMAD/AFP/Getty Images
Was Donald Trump Really Featured In A Porno? Trump Allegedly Appeared In A Video
Donald Trump has been accused of a lot of things — but this most recent claim about his past might be the most shocking headline from this 2016 presidential election. Donald Trump is currently the Republican Party nominee for President of the United States. But back when Trump was just a wealthy man in New York, according to Buzzfeed News, he made a video appearance that will make people ask was Donald Trump really featured in a porno? The answer is yes — but he is only in the video for a "blink and you'll miss it" clip. You can watch the video here.
In the clip, obtained by Buzzfeed News, Trump is shown standing outside of a black car, surrounded by a bunch of girls. In the video, Trump is labeled as "an entrepreneur." "Beauty is beauty, and let's see what happens in New York," Trump says, before popping a bottle of champagne and dousing the Playboy logo on the car with it. According to Buzzfeed, the video was obtained from an online-only adult video store named Cinema Cornucopia. The video does not show Trump in any compromising situations — he only appears in the short clip of him talking about New York City. However, the video speaks for itself. Trump's representatives did not respond to a request for comment at this time.
According to Buzzfeed, the cover of the video reads: "From luxuriating in a warm, soapy tub, to reveling at an exclusive night club, Carol and Darlene bare their sex appeal and lead you on a sensual journey of discovery." Buzzfeed describes the video as "softcore porn." This discovery comes right on the heels of Trump's allegations towards former Miss Universe Alicia Machado. According to The New York Times, on Friday morning, Trump urged his followers to "check out" her sex tape and past. However, according to The New York Times, there is no evidence that Machado appeared in a sex tape but did appear in a "risqué scene" on a reality television show.
It is incredibly important to note that neither Trump or Machado's past are anything to be shameful of. There is nothing wrong with appearing in a reported risqué sex tape or pouring champagne on a Playboy logo in the beginning of a video that reportedly features naked women. However, for a major party candidate with a conservative backing, it should be interesting to see how Trump's supporters react to his video appearance and how Trump defends his cameo.