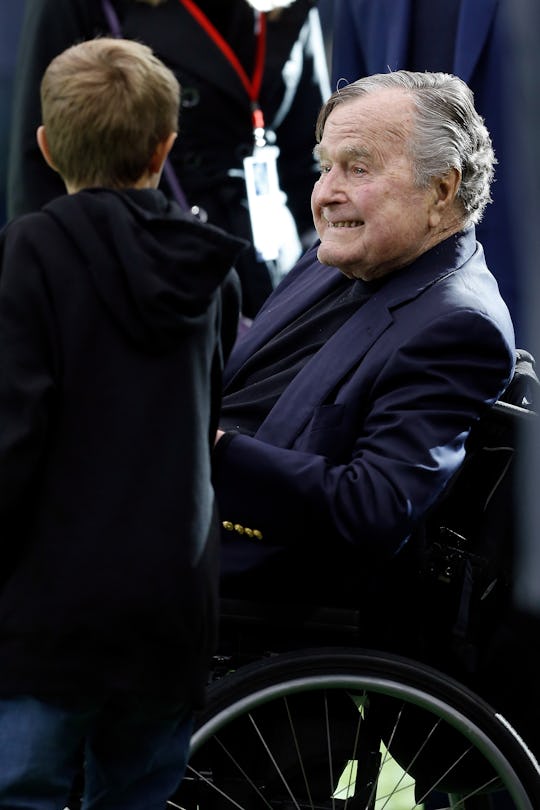 Bob Levey/Getty Images Sport/Getty Images
Was George HW Bush Sick? He's In Hospital
Local news outlets in Houston have reported that former President George H.W. Bush has been admitted to hospital. Was George H.W. Bush sick? 92-year-old Bush is thought to have been admitted due to an undisclosed illness, but his chief of staff, Jean Becker, told the Houston Chronicle and local news station KHOU that he is "doing fine," according to CNN.
In a tweet Wednesday morning, Bush's rep, Jim McGrath, explained that Bush had been experiencing shortness of breath over the weekend, and was taken to Houston Methodist Hospital. While he remains admitted for now, McGrath said he "has responded very well to treatment." A separate statement released by his office said that Bush was "being monitored as a precaution and is resting comfortably," according to NBC News.
Although it sounds like Bush — who served as the nation's 41st president from 1989 to 1993 — is doing well, he has struggled with ailing health in recent years. In addition to having a form of Parkinson's disease, for which he requires a wheelchair, he also broke a bone in his neck in 2015 while vacationing at his summer home in Maine, according to NBC News. In 2012, Bush was admitted to hospital for "a bronchitis-related cough," according to The Houston Chronicle, but after his initial discharge, was readmitted and ultimately spent Christmas in intensive care (he finally went home almost two months later). This also isn't his first hospitalization for shortness of breath: in December 2014, he was similarly hospitalized in Houston, where he stayed for a week before being released.
Those health issues certainly haven't seemed to put a damper on his spirits, though. According to NBC News, for his 90th birthday, Bush opted to celebrate with a tandem skydive in Kennebunkport, Maine (no big deal!). And only three days after his 92nd birthday last summer, Bush "led a group of 40 wounded warriors on a fishing trip at the helm of his speedboat."
One event his health has kept him from attending however? President-elect Donald Trump's inauguration on Jan. 20. His rep previously confirmed that Bush and his wife, former first lady Barbara Bush, would not be making an appearance due to his advanced age and health concerns, according to CNN.
The elder President Bush (his son, President George W. Bush, served as the 43rd POTUS from 2001 to 2009), entered politics in 1964, first as a House representative, and later as President Richard Nixon's appointed United Nations ambassador, according to NBC News. From there, he also held other titles, including chief of the U.S. Liaison Office in China, and director of the Central Intelligence Agency, before being chosen as Ronald Reagan's running mate in 1980, according to Politico. In 1988, Bush successfully won his own presidential campaign, beating out former Democratic presidential nominee Michael Dukakis, according to NBC News.
In addition to being the oldest living former president, Bush and his wife are also the longest-married presidential couple. On Jan. 6, they celebrated their 72nd wedding anniversary, after marrying at the First Presbyterian Church in Rye, New York, in 1945 while Bush was on leave as a Navy pilot in World War II, according to Politico.