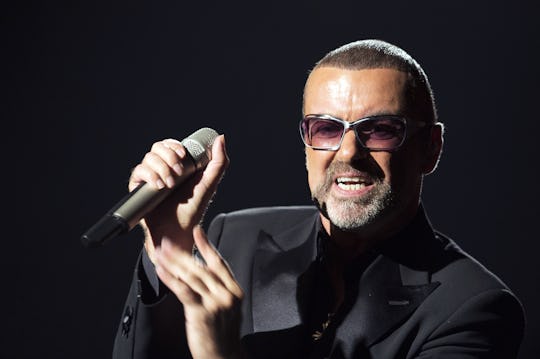 MIGUEL MEDINA/AFP/Getty Images
George Michael's Death Has Left Us With Questions
The music world was shocked Christmas Day, when news spread that George Michael died at the age of 53. The iconic signer's publicist announced he, "passed away peacefully at home," in Goring, Oxfordshire. While it's well-known that the singer previously battled drug and alcohol addiction, many are wondering, "Was George Michael sick before he died?" The cause and circumstances around his death remain unknown, so it will probably be sometime before friends, family, and fans are given answers.
George Michael's real name is Georgios Kyriacos Panayiotou, an iconic '80s singer who rose to fame as part of the pop group Wham! before branching off and enjoying a lucrative solo career. An English singer, songwriter, and record producer, he is best known for songs, "Faith," "Carless Whisper," and "Father Figure." Aside from his impressive music career, Michael was well-known for his work in the LGBTQ community, coming out as an unapologetic gay man in 1998. "I do not feel shame [about my sexuality], neither do I think I should," Michael told CNN in an exclusive interview.
In 2011, Michael announced that he came close to dying of Pneumonia, fueling rumors that his death was the result of an ongoing health issue. He described battle, at the time, as "touch and go" and "by far the worst month of my life." Michael went on to describe the severity of the situation; a situation that he kept quiet in an attempt to shield his fans. "I got streptococca-something … It's a form of pneumonia and they spent three weeks keeping me alive basically."
Michael's past health problems, coupled with his public battle with drugs and alcohol, leave many to assume that the singer could have been battling an illness secretly. Of course, that's really no one's business, as a person's medical information — regardless of how famous said person is — is extremely personal. Of course, an autopsy will likely be performed, and more information will be coming in the coming days (if not sooner).
Until then, fans are taking to twitter to voice their shock, sadness, and solidarity with Michael's friends, family members, and colleagues. Here are just a few of the tweets sent in honor of the singer.
2016 seems to be nothing if not relentless in robbing us of the greatest talent. However, our collective sadness it helps to focus on those who knew these artists the best: their family and friends. While it hurts to watch these heroes — who have shaped our lives with their music and art — leave, it's difficult to fathom how that loss must feel for those who knew and loved them the most. So, with that, we wish George Michael's family peace during this difficult time.