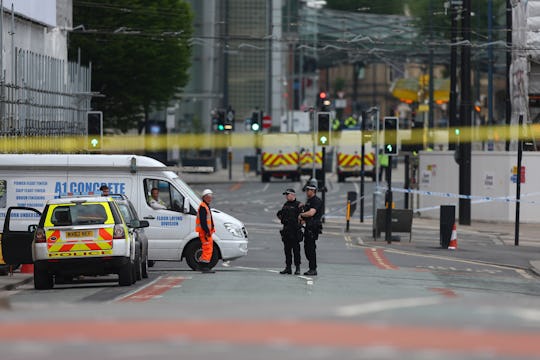 Dave Thompson/Getty Images News/Getty Images
Was ISIS Behind The Manchester Attack?
Law enforcement are still investigating the attack in Manchester Monday night following an Ariana Grande concert. At least 22 are dead, more than 50 injured, and many more still missing. The attacker died at the scene, and another individual police believe to be involved has been arrested. Unverified reports from the Middle Eastern news organization Amaq are now stating that ISIS may have claimed responsibility for the attack. Was ISIS behind the Manchester attack? The Washington Post and other news outlets say that the group has claimed responsibility, according to SITE, which monitors ISIS activity.
The Islamic State Group reportedly claimed responsibility for the attack Tuesday morning, saying "a soldier of the caliphate planted bombs in the middle of Crusaders gatherings," according to The Associated Press. ISIS claimed that 30 died and 70 were injured in the attack, numbers that are higher than the numbers being reported by law enforcement in Manchester. ISIS has yet to provide evidence supporting their claim of the attack, according to CNN.
The Greater Manchester Police have reported that they believe the attack was carried out by a single individual armed with an improvised explosive device. The attacker died at the scene, and although law enforcement believe they have identified the individual, they have not yet confirmed the identity to the media.
In the immediate aftermath of the attack, many international media outlets reported "celebrations" by ISIS supporters, according to TIME Magazine. The statement from ISIS claiming responsibility for the attack, which appeared first on the messaging app Telegram, indicated that the attack was motivated by the UK's "transgressions against the lands of the Muslims" and that supporters of ISIS viewed the attack as a response to airstrikes on Iraq, according to The Telegraph.
According to the TIME report, the information from ISIS regarding the attack didn't come through it's official news agency, and the official rundown of military activities published by the group on Tuesday didn't appear to include the attack in Manchester.
By midday Tuesday, the North West ambulance service reported that at least 12 of the injured taken to the hospital were under the age of 16, according to The Guardian. Eight different hospitals around Manchester are still treating patients, many of whom are suffering life-threatening conditions, according to a statement given by Britain's Prime Minister, Theresa May, according to the BBC. The Prime Minister denounced the attack as a "callous terrorist attack" that targeted "defenseless young people" but also commended the work of law enforcement and medical personnel who responded. May is set to travel to Manchester later in the day to meet with law enforcement. She also declared that campaigning for Britain's general election in July has been suspended in light of the tragedy.