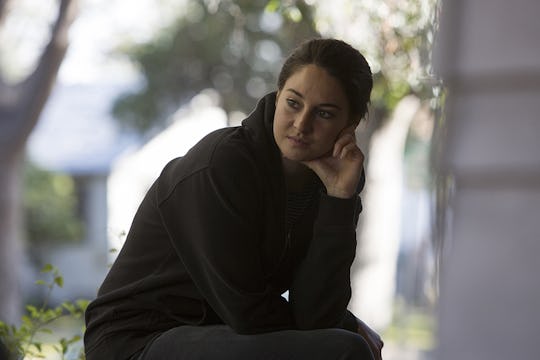 Hilary Bronwyn Gayle/HBO
Jane's Past Is Haunting Her On 'Big Little Lies'
The world of Monterey, California in Big Little Lies is exclusive and catty, but one newcomer manages to enter the fold: Jane Chapman. Jane is a young, single mother of first-grader Ziggy. From the start of the series, as in the start of the novel by Liane Moriarty, we don't know much about Jane. She's merely one of the many mysteries left for us to solve — the biggest being the murder on Trivia Night. In the first couple episodes, though, the show drops hints about her history. Was Jane attacked on Big Little Lies? Her flashbacks seem to be very telling.
We had a feeling there was more to Jane's story in the premiere episode. While she was running, she had flashbacks of a woman (which appears to be her) walking along the beach in a torn dress. On Sunday's episode, these flashbacks only intensified. They appeared to coincide with a scene of Ziggy attempting to kiss Amabella without her consent. After the meeting where the school's principal tells her that's what happened, she breaks down in tears. Could her past have to do with an attack? Could consent have something to do with it?(Warning: major spoilers from the novel ahead!)
Jane tries to shake off her anxieties by dancing after her run, but that's when she gets the call about Ziggy that brings her back to reality. If the series follows the novel, then her past does involve an attack: Jane was assaulted, and Ziggy was conceived from it. In both the novel and the series, Jane makes pains to assure Ziggy that he himself is not a monster. Throughout their story, though, she has pangs of worry that he takes after his father.
While Ziggy trying to kiss Amabella (in an attempt to make amends) did not happen in the novel, it fits with both his and Jane's narratives. Jane was attacked by a man named "Saxon Banks," who turns out to be Perry. This is aligned with Perry's violence towards his wife, Celeste. Jane believes Ziggy is good, but wonders if said violent tendencies are genetic. He is eventually revealed to be innocent and Amabella's confidant in who actually hurt her. Who actually hurt Amabella wasn't so hard to believe: one of Celeste and Perry's sons, Max.
We don't know if the series will exactly follow this narrative, but it's clear by this point that Jane's story will likely remain the same. The flashbacks in these episodes don't reveal what exactly happened, but they do acknowledge a tragedy that she went through that she's trying so hard to forget.