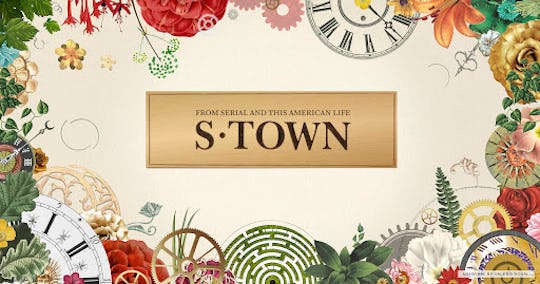 Artwork by Valero Dova
John B. McLemore's Life Is As Mysterious As 'S-Town'
It's hard to talk about the new S-Town podcast without some minimal spoilers, so prepare yourself to learn a little bit more about John B. McLemore — the subject of the podcast — than you might know if you haven't already binge-listened to the entire thing. (It goes without saying, but if you didn't catch it before, there will be plenty of SPOILERS AHEAD.) McLemore is an eccentric man, which is part of what makes the podcast so enthralling. Although the podcast was billed as a murder-mystery early on by the Serial and This American Life producers, it ends up being more of a character study of the town and the man himself: John B. McLemore, who never married and committed suicide at the age of 49 years old.
The podcast begins with Brian Reed, a journalist for This American Life, detailing an email and phone correspondence he struck up with McLemore, after the Woodstock, Alabama native emailed him about a murder he thought was being covered up in "Sh-t Town," his NSFW nickname for his hometown. The two men form a sort of relationship and Reed eventually goes down to meet him, face to face, and investigate. Instead, the two end up becoming friends, with McLemore sharing some (but not all) intimate details about his life. One of those things is that McLemore is gay, though he doesn't really say it outright.
Instead, he tells Reed that he's a big fan of This American Life's David Sedaris and makes comments throughout that insinuate he's neither in nor out of the closet. Like everything else in Sh-t Town, it's neither here nor there.
In Chapter Six, which is subtitled "Everyone thinks I'm queer, anyway," McLemore's sexuality and romantic history is explored in depth, detailing the relationships he had with Tyler, a neighbor and BFF who was allegedly with McLemore the day that he drank cyanide, and another young man from the town named Michael, whom he took under his wing. McLemore also had a relationship with a man that he met on a dating site, though that, too, never evolved into anything exclusive, though the story of he and Olan's time together is a tear jerker, for sure. The exploration of these relationships add another level of sadness to McLemore's self-professed loneliness and suicide in Chapter Two.
Although the podcast is supposed to be about a town, a murder, and a treasure hunt, among other things, at its heart, it is really about McLemore, who studied sundials, loved math, built a crazy complex hedge-maze in his yard, fixed antique clocks, cared for his mother, hated climate change, and apparently had a profound effect on almost everyone he met and was close to.
The podcast is a great story about a very complex man, living a complex inner life. If you haven't listened yet, you should probably start now.