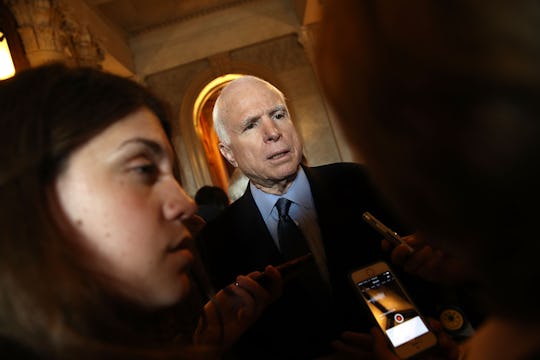 Win McNamee/Getty Images News/Getty Images
Was John McCain Sick During The Comey Hearing?
Sen. John McCain was diagnosed with brain cancer following surgery to remove a blod clot above his eye, his office said in a statement on Wednesday. Doctors stated that the Arizona senator had a "primary glioblastoma," a specific type of brain tumor, according to CNN. The diagnosis came as something of a surprise to the general public, but voices on the Hill first began expressing concern last month after McCain seemed to stumble over a confusing line of questioning during former FBI Director James Comey's Senate hearing. So was McCain in fact sick during Comey's hearing or was his inquiry the result of something else?
"People have tried to say, 'Is this why he was acting strange a month ago during the hearings?' It wouldn't make any sense because he was normal (after the hearing). I don't think there was a connection between that episode and the present procedures," Dr. Joseph Zabramski, a neurosurgeon at Barrow Neurological Institute in Phoenix, told USA Today this week. (Zabramski did not treat the Arizona senator.)
Regardless, some on the Hill suggested that the initial clot and the garbled speech were connected. "I didn't follow that line of questioning very well, to be honest with you," Florida Sen. Marco Rubio told reporters after the hearing last month.
In a statement on Twitter Wednesday, Rubio followed up his earlier remarks, sending condolences and well wishes to the family.
".@SenJohnMcCain is an American hero," Rubio wrote. "I pray for him and his family. I look forward to seeing him soon."
For the time being, doctors have stated that McCain is recovering at home and is "reviewing further treatment options with his Mayo Clinic care team." As of now, representatives have not disclosed whether the tumor could have affected the senator's speech or thought processes.
In a touching statement on Wednesday, McCain's daughter, Meghan, wrote,
The news of my father's illness has affected everyone in the McCain family. ... If we could ask anything of anyone right now, it would be the prayers of those of you who understand this all too well.
It won't surprise you to learn that in all this, the one of us who is most confident and calm is my father. ... He is the toughest person I know. The cruelest enemy could not break him. ... He is meeting this challenge as he has every other.
McCain's office has not yet indicated when he may return to work, but noted that it would release further details in the coming days.