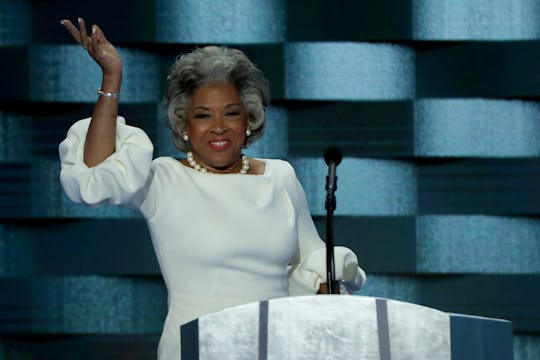 Alex Wong/Getty Images News/Getty Images
Was Joyce Beatty Wearing The Same Dress As Melania Trump At The DNC? It Was Very Similar
The final night of the Democratic National Convention brought plenty of top notch speakers to the stage. While most of the attention would typically be on the demeanor and speeches of these personalities, some eyes were drawn to a very familiar white dress worn by Joyce Beatty. This had some wondering: Was Joyce Beatty wearing the same dress as Melania Trump at the DNC? The Ohio Congresswoman's DNC fashion choice looked a bit too similar.
According to The New York Times, the beautiful white dress with puffed sleeves worn by Republican presidential candidate Donald Trump's wife last week as she spoke at the Republican National Convention was a piece by Roksanda Ilincic, a Serbian-born designer based in London, retailed at $2,190. The could-be first lady reportedly hand-picked the dress from the fashion site Net-A-Porter and, according to The Daily Mail, the dress sold sold out shortly after her appearance.
It's entirely possible that Beatty was one of those who nabbed the piece right after the former model delivered a partially plagiarized speech, containing some passages that were remarkably similar to Michelle Obama's speech in 2008. Or perhaps the congresswoman had it waiting in her closet for just this day, after all the designer is popular with other influential women, such as the current first lady and Kate Middleton.
The striking similarities between the ladies' dresses were just a bit too obvious for those paying close attention the conventions, catching the attention of many on social media who couldn't hold back:
Even if the congresswoman wore the same dress as Trump, Beatty delivered a fantastic speech that grabbed just as much, if not more, attention from viewers at home and those in the Philadelphia arena, which completely backed Hillary Clinton's presidential nomination
"Hillary Clinton is by far the most experienced, qualified, and skilled candidate," Beatty said on Thursday night. "She cares deeply about each and every American: no matter what you look like, where you are from, or who you love."
Even before the Democratic convention, Beatty had criticized Donald Trump for his divisive rhetoric. And again, during her speech on Thursday, she attacked the Republican presidential candidate's lack of political experience.
"Donald Trump, on the other hand, is the most divisive and ill-prepared candidate we've seen in modern times — looking to wind back the clock on all the progress we have made as a nation together," Beatty continued. "He has built a career on intimidation, discrimination, and bullying — at the expense of and on the backs of small businesses and hardworking families."
Some may be posing the question: Who wore it better? But, it's fair to say that both women wore the dress beautifully, yet differently with their own character. While they very clearly disagree on which candidate is meant for the Oval Office next term, they both know a stunning dress when they see it.