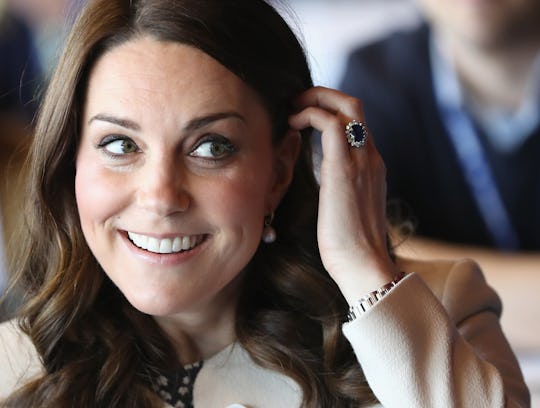 Chris Jackson/Getty Images Entertainment/Getty Images
Kate Middleton's Engagement Ring Belonged To A Very Special Person Before Her
Prince Harry and Meghan Markle's upcoming wedding is causing some people to have a newfound obsession with the all things royal. Their wedding is going to be super exciting and the anticipation is leading to some serious nostalgia for the previous royal weddings and engagements — like Prince William and Kate Middleton's 2011 wedding. Sure, people remember her amazing dress, but it's impossible to forget Middleton's engagement ring, especially since she wears it during every appearance. When looking at her ring, it's hard not to wonder if Middleton's engagement ring was actually Princess Diana's, especially since the late royal and Prince William shared such a close bond.
When Prince William and Middleton got engaged in November 2010, people were pretty excited to say the least. This meant that Britain's most eligible bachelor was off the market, ready to settle down, and start a family with his longtime girlfriend, Middleton, who he met in college at St. Andrews University, according to the BBC. When the two made their official appearance in front of cameras after the announcement was made, it was hard to look away from Middleton's gorgeous navy blue dress and the huge sapphire engagement ring on her finger to match the deep blue hue.
But that ring wasn't your average ring that William picked up at the department store. The 12 carat sapphire ring, according to Travel + Leisure, in fact, had been in his royal family for quite some time, according to Vogue, and was his mother, Princess Diana's engagement ring.
The history Middleton's ring dates back to 1840, according to Vogue, when Prince Albert had a British jeweler make a sapphire brooch surrounded by diamonds for his wife, Queen Victoria. The brooch was kept in the family for years later, according to Vogue. Prince Charles, Prince William's dad must have been taken by the brooch, which is now a crown jewel, according to Vogue — because when Prince Charles went to propose to Princess Diana, he commissioned a wedding ring from the same jeweler to look exactly like that royal brooch.
When Princess Diana died, according to The Sun, she left her jewelry to her "future sons wives," including her engagement ring. So when it came time for Princess Diana's oldest son to propose to his girlfriend, he of course proposed to her with his mom's stunning engagement ring.
During the televised interview directly after their engagement announcement in 2010, Prince William explained the origin and sentimental meaning behind giving Middleton his mother's ring. Prince William said, according to ABC News:
It is a family ring, yes. It's my mother's engagement ring. So I thought it was quite nice because obviously she's not going to be around to share any of the fun and excitement of it all — this was my way of keeping her close to it all.
"I'm sure everyone recognizes it from previous times," Prince William added, according to ABC News.
Prince William revealed during the interview that he had proposed to Middleton with the ring during a trip to Kenya, according to ABC News. Middleton claimed that the moment was completely unexpected but was obviously so happy. "It's beautiful," Middleton said of her ring during the interview.
But Middleton's engagement ring does have some modifications that doesn't make it Princess Diana's exact engagement ring. Middleton's ring was slightly too big for her when she received it, according to The Diamond Store, so platinum beads were placed inside of the ring's band to make it fit a little more snug around her finger. But Middleton's ring still honors the late princess, who Middleton never got to meet but is still remembered daily. "I would love her to have met Catherine and for her to have seen the children grow up," Prince William said of his mother, according to PopSugar. "It makes me sad that she won't, that they will never know her."
Middleton's ring will inevitably be passed down to any of her children — Prince George, Princess Charlotte, and the third baby on the way — or any of their spouses. But knowing that there is such a strong documented history behind the ring will make it all the more special for the next person who gets the privilege of wearing it.
Check out Romper's new video series, Bearing The Motherload, where disagreeing parents from different sides of an issue sit down with a mediator and talk about how to support (and not judge) each other's parenting perspectives. New episodes air Mondays on Facebook.