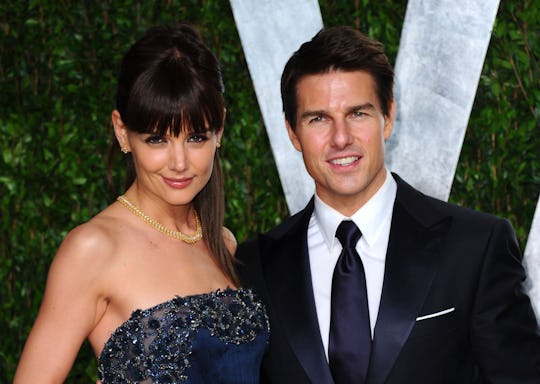 Alberto E. Rodriguez/Getty Images Entertainment/Getty Images
'The Arrangement' Raises Q's About Katie & Tom
On E!'s new drama, The Arrangement, TV actress Megan Morrison (Christine Evangelista) gets involved with movie star Kyle West (Josh Henderson). After a spontaneous getaway together, Kyle offers up a marriage contract, which includes giving Megan payment for marrying him. Fans have already compared Megan and Kyle's relationship to Katie Holmes and Tom Cruise and now many are wondering — was Katie Holmes offered money for her marriage to Tom Cruise? (Romper has reached out to Holmes' team for comment about comparisons to the show and has yet to hear back.)
While there's always been rumors that Holmes and Cruise had some kind of marriage contract, it has always appeared that these claims are unfounded. Tony Ortega, who runs the Scientology-based blog The Underground Bunker, told The Huffington Post in an email that the "urban legend probably grew out of a misunderstanding of what actually did occur."
According to Ortega, "several young women were vetted by the church [of Scientology] and 'tried out' as Tom's next wife before Katie Holmes was chosen," and they all had to sign nondisclosure agreements before they dated Cruise. Apparently the church was helping Cruise find a new wife after his divorce from actress Nicole Kidman four years prior because Cruise wanted his third wife to be approved by the church.
Of the women Cruise approached, Holmes seemed to be the only one that embraced Scientology and by 2006 she delivered the couple's daughter Suri and later that year the couple was married in a Scientology ceremony. The two remained married for six years until Holmes filed for divorce in 2012 and asked for sole custody of Suri. The fact that Holmes went for sole custody seems to again indicate that she didn't sign a marriage contract or was paid for the marriage. If she had, it'd seem unlikely that part of the contract wouldn't have included guaranteed custody or shared custody for any kids they had (though again, that's just pure conjecture on my part).
It appears the rumors of Holmes being paid to marry Cruise are truly false, however it's doubtful that'll ever stop people from speculating, especially with The Arrangement bringing the subject back into the spotlight again. Even if the show isn't truly based on Holmes and Cruise, as the cast and producer continue to claim, the similarities between the real-life couple and this on-screen duo are a bit too much to ignore.
You can watch The Arrangement on Sundays at 10 p.m. on E! and decide for yourself if the show is based on real events.