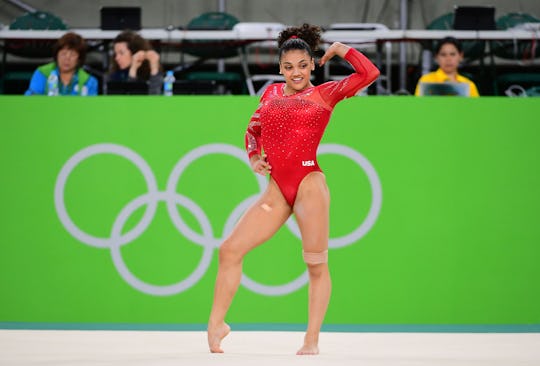 EMMANUEL DUNAND/AFP/Getty Images
Was Laurie Hernandez Injured? The Gymnast Is Fine, Despite The Rumors
The 2016 Olympic Games are officially underway after a dazzling opening ceremony in Rio on Friday. One of the most highly anticipated competitions at every summer Olympics are the gymnastics events. Team USA made headlines early on in the summer when it announced its roster, which included 16-year-old Laurie Hernandez of New Jersey. She's the youngest member of the U.S. Women's gymnastics team and one of three 16-year-olds competing in the Rio Olympics for Team USA. She was quickly named one to watch at this year's competition. However, just this weekend, concerning rumors began swirling, which claimed that Laurie Hernandez was injured.
International Gymnast Magazine reported that Hernandez had allegedly suffered from a pulled hamstring during training. The gymnastics industry publication began to speculate over whether the 16-year-old ingenue would be able to compete or if she would have to be replaced by an alternate. The initial rumor of a pulled hamstring quickly evolved into rumors of a pulled stomach muscle. International Gymnast Magazine stated that this could be the reason Hernandez was not selected to compete on the uneven bars in the qualification rounds. Not competing in the uneven bars will keep Hernandez out of contention for the later all-around event.
Thankfully, by late Friday morning, Hernandez had taken to Twitter to dispel the rumors that she was sidelined due to an injury. "This is false info!" she wrote. "Our team is healthy and prepared to compete."
Despite being uninjured and having placed second in the U.S. Olympic trials, it's still unclear whether Hernandez will be the odd gymnast out on Team USA, come all-around time. Witnesses confirm that Hernandez did not participate in uneven bars at last week's public trials, which might be a sign of things to come.
Each country can send four athletes to attempt to qualify for all around. To do so, the gymnasts must compete in all competitions — uneven bars, floor, balance beam, and vault — to qualify for the all around competition. Team USA has five gymnasts.
It's certainly disappointing to think that Laurie Hernandez may not qualify for the all-around competition. She's known for her spectacularly fun routines, like the one she performed at the Olympic Qualifying competition in the beginning of the summer. It's not all bad news for Hernandez this week, though, as she made a major announcement on her Instagram: The breakout gymnast announced she would be passing up a full scholarship to the University of Florida to instead go pro in gymnastics, writing,
I am so proud and excited to announce that I've turned professional and given up my NCAA eligibility; although I will always be a Florida Gator at heart. I'm looking forward to continuing to represent USA at the highest level of gymnastics for several years to come! I really appreciate all the love and support from everyone around me; especially my coach Maggie Haney for getting me to this level and helping me achieve these amazing accomplishments!
Whether or not Hernandez is allowed to compete for the all-around gold this year, there are still many Olympic Games to come, and plenty more opportunities for her to kick ass. Be sure to keep your eye on this 16-year-old phenomenon throughout the next couple weeks — if her Olympic Qualifying performance was any indication of what she has in store, it's sure to be an exciting ride.