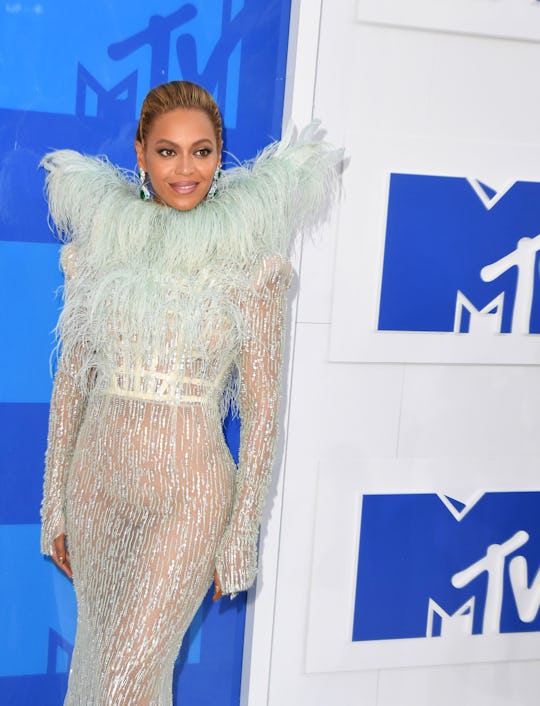 ANGELA WEISS/AFP/Getty Images
Was 'Lemonade' Nominated For A 2017 Grammy? It Was Nominated For Album Of The Year
Here's a question I never thought I'd have to ask (because I always just intuitively knew the answer): Was Lemonade nominated for a 2017 Grammy? And before I get to the answer, I'd like to just follow up that question with another for you: Does a bear sh*t in the woods? In an announcement on CBS This Morning, Meghan Trainor announced the nominees for this years Grammy Awards. Beyoncé's "Formation" started off the nomination list by earning a nomination for Record of the Year. That honor was followed up by another nomination for Song of the Year, also for "Formation." Lemonade was then nominated for Album of the Year, a big old shock to no one.
Though individual tracks were nominated — like "Hold Up," which was nominated for Best Pop Solo Performance; "Don't Hurt Yourself," which was nominated for Best Rock Performance; "Freedom," which was nominated in Best Rap/Sung Performance; and "Formation," which was then again honored with the Best Music Video nomination — Lemonade was nominated in the Best Urban Contemporary Album category and Best Music Film category, bringing Queen Bey's grand total this year to nine Grammy nominations, and her nominations-to-date to 66.
Lemonade, when it was released almost seven months ago, helped put in such stark contrast the view of the idealized America and the sobering reality of what America in 2016 is really like for marginalized communities and women of color. Even though America is continually coming to terms with who it is currently and what it hopes to become, Lemonade served as a cultural commentary on all the ways in which our world has failed not just women, but also women of color. Yes, Lemonade told the complicated, frustrating, and challenging story of a relationship on the brink to reconciliation, but it couched that narrative in the story of black excellence — one writers who identified with that experience were able to contextualize and appreciate. Its release was incredibly important at that point, but with each passing day it's become all the more clear just how important the album and its visual component are.
And yes, because I know you're thinking it: Beyoncé continues to be the most nominated female performer of all time. But here's where things get really, really interesting. According to Vulture.com, Beyoncé has yet to win a Grammy for Album of the Year. Though this year has been incredibly unpredictable and impossibly hard to define, if there's one thing to put stock into, it's the hope that Lemonade will finally mark Beyoncé's Album Of The Year dominance. It's clear fans feel the same:
At this point, there's little else to do but bow to the queen.