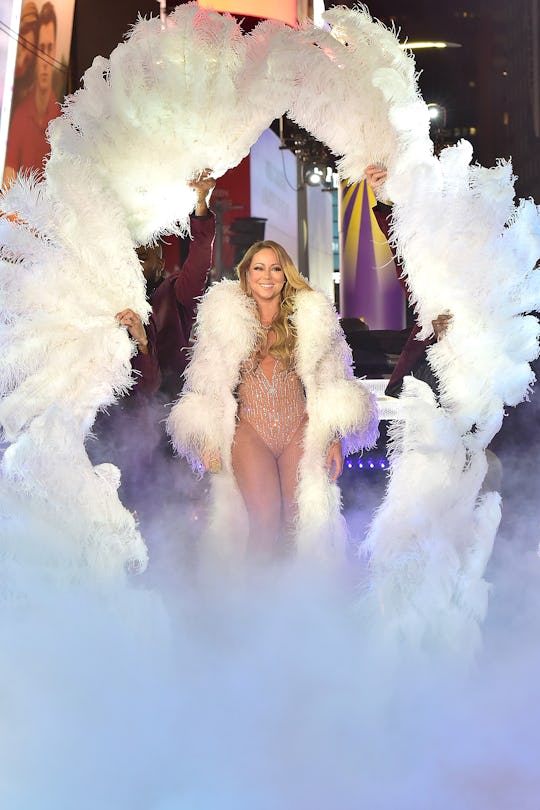 Eugene Gologursky/Getty Images Entertainment/Getty Images
Mariah Had Some Major Technical Issues On NYE
2017 is starting off on a rather interesting note for singer and all around legend Mariah Carey. Mimi took to Dick Clark's Rockin' New Year's Eve on Saturday night to perform some of her hits for audiences in New York's Times Square (and people all over the nation), but things didn't go according to plan. During the performance, Carey suffered from a handful of technical difficulties, but powered through the performance. Unfortunately, it left a lot of people on Twitter asking if Mariah Carey was lip-syncing during her New Year's Eve performance. (Romper reached out to Carey's representatives regarding the allegations, but did not hear back at the time of publication.)
Carey is known to have a set of pipes on her. This is by no means a representation of her talent, because for the last few months we've all been trying to imitate the singer with her "All I Want For Christmas Is You." So this incident is no indication of What She Can Do. But, Twitter can be a cruel mistress, thus picking apart a performance that Carey probably wants to leave behind in 2016. You had one job, 2017, to make this year better, easier, and a lot less Difficult. So far, so good.
Twitter was quick to call foul on Carey's performance. From the video of the performance, it does appear that Carey stopped singing while the voice track continued singing for her. At one point, she even asked the audience to finish the lyrics for her, in which case I'm sure thousands of people in Times Square were like, "I volunteer as tribute, Mimi."
There were others, though, that weren't as giving.
Carey was a good sport, at least that's what she said she was being. Honestly, at that point, can you really blame someone for just not wanting to be in front of an entire nation at the moment? Her tweet basically explains it all.