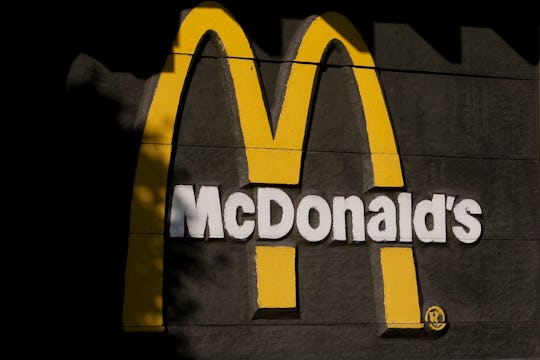 David Paul Morris/Getty Images News/Getty Images
McDonald's Corporate Twitter Just Went Rogue
On Thursday morning, the corporate Twitter account for McDonald's sent a call out tweet to President Trump that immediately went viral. For a brief time, the tweet was also pinned to the corporation's Twitter profile. It was then deleted, but not before Twitter users managed to get screenshots. The internet as a whole is now trying to determine if a rogue social media manager sent the tweet, or if something else happened. Was McDonald's Twitter hacked? Or did an employee who meant to post the tweet to their own personal social media account accidentally post it to the company's account?
McDonald's responded to Romper's request for comment via email with the following statement from spokesperson Terri Hickey:
Twitter notified us that our account was compromised. We deleted the tweet, secured our account and are now investigating this.
The tweet in question came from McDonald's corporate account (@McDonaldsCorp) rather than their brand account (@McDonalds) midmorning on Thursday. The company sent a follow-up tweet stating that Twitter had notified them their account had been compromised and they are investigating.
That being said, it's not yet clear whether the tweet was made by an employee (current or former), or if the account was indeed hacked by an outside party. Whatever the reason, it certainly got people's attention on social media. If it was an employee, it wouldn't be the first time since President Trump took office that a social media manager for an agency or brand "went rogue". There are allegedly several "rogue" accounts for various government departments, which became something of an internet sensation after the National Parks Service lead the way.
While none of the accounts have been verified, the concept of transparency from within the organizations in the form of anonymous social media posts has struck a chord with the American public and held them in rapt attention. Some of the "alt" accounts gained millions of followers in the few months they've been active. Of course, those accounts were expressly created for that purpose, whereas the hijacking of an existing account — which may have been the case with McDonald's — in order to convey political commentary has the makings of a PR nightmare.
While some brands, agencies, and high-profile individuals have used social media to denounce President Trump, his administration, and/or his policies, those statements usually come from the top, like a CEO or founder. NBC Universal, Univision, Macy's and others have distanced themselves or cut ties completely with Trump, according to Fortune. So, while there certainly are brands that are taking a stand one way or another when it comes to the current administration, McDonald's had thus far not been among them.