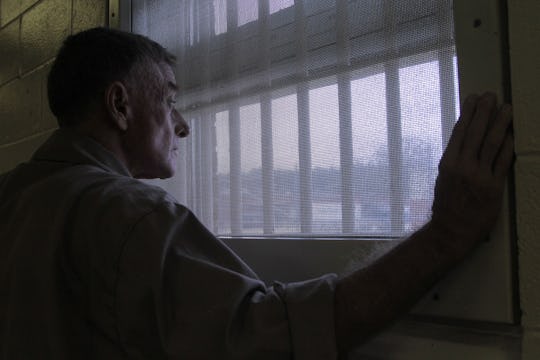 WhatsUp/Netflix
Michael Peterson's Conviction Explained On 'The Staircase'
The Netflix series The Staircase, which debuts on June 8, takes another look at the 2001 death of Kathleen Peterson. When her body was found at the foot of the stairs in her home, many came to believe that her husband, Michael, was responsible. He was the only one in the house at the time, and Kathleen's body bore signs of attack. But was Michael Peterson convicted?
According to North Carolina's local news affiliate WRAL, Michael was indicted on charges of first-degree murder shortly after it was determined that foul play was involved in Kathleen's death. Though her death was initially ruled an accident, the autopsy results changed that; WRAL reported that there were "seven deep cuts to the back of her head and bruises on her hands, arms and face." Investigators felt that the injuries she sustained did not seem consistent with falling down the stairs, and it appeared to them as though she had been beaten.
In 2003, Michael was found guilty of first-degree murder and sentenced to life in prison. In 2004, he was also found financially liable for Kathleen's death in a wrongful death lawsuit brought against him by Kathleen's daughter, Caitlin Atwater. There were a few major factors that influenced Michael's conviction, chief among them the eerily similar death of an old friend and the alleged marital issues between him and Kathleen. Despite all of that, Michael endlessly denied that he was involved in Kathleen's death. He maintains his innocence to this day. (Romper reached out to Michael Peterson's representatives and Netflix for additional statements.)
While the case was being built, it came to light that Elizabeth Ratliff, the mother of Michael's two adopted children, had also died in an accidental fall down the stairs in 1985. Her body was exhumed and reexamined; the second autopsy revealed that blunt force trauma had caused her death as well, according to CNN, and that initial investigators had missed the signs. All of this raised further suspicions about Michael who insisted, according to ABC News, that he believed Ratliff had died a "perfectly natural death."
Though it was speculated that a weapon was used to strike Kathleen, nothing was found in the Peterson home that could have been the murder weapon. There was also the issue of motive, which prosecution couldn't seem to nail down. Many believed the Petersons had a happy marriage, making it unclear why he would kill her. Prosecutors theorized that Kathleen's discovery of Michael's bisexuality, as well as his plans to meet with a male sex worker, led to issues between the two of them. However, ABC News reported Michael saying, "We lived together for 14 years, and we were happy every one of those years."
To add to that, in The Staircase, Michael is very open about his bisexuality. He suggests multiple times throughout the docuseries that Kathleen was well aware of his sexual preferences throughout their marriage.
In 2017, Michael entered an Alford Plea for manslaughter in the case of Kathleen's death. An Alford Plea, as explained by Legal Zoom, is when a defendant pleads guilty while proclaiming their own innocence; they admit that there is enough evidence to prove their guilt. That means Michael may have agreed with the fact that the available evidence was sufficient to convict him, but he still claimed that he was innocent. The plea deal allowed him to walk free even though he had previously been sentenced to life in prison. Instead, he was released with a sentence of time served.