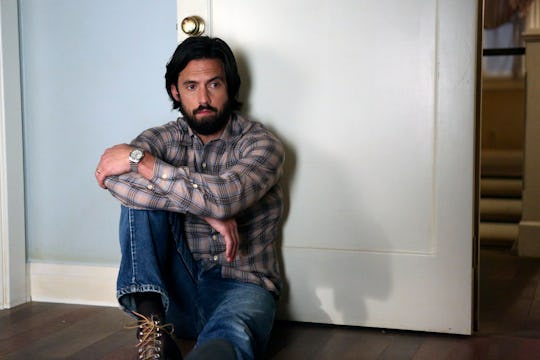 Ron Batzdorff/NBC
Why 'This Is Us' Fans May Be Disappointed With The 2018 Golden Globe Nominations
This Is Us has been earning positive reviews since its premiere, and part of the reason people love it so much is because of Milo Ventimiglia's role as Jack Pearson, the family patriarch. But despite how popular his character (and performance) are, he missed out on a nomination at the Golden Globes. Was Milo Ventimiglia snubbed for the 2018 Golden Globes?
That may be debatable depending on how much of a fan you are of Ventimiglia as Jack, but he definitely wasn't nominated this year. This Is Us did earn a few nods, however, so it wasn't like the show wasn't on the minds of Golden Globes voters. The show itself was nominated for Best Television Series — Drama and both Sterling K. Brown and Chrissy Metz were recognized for their performances. Brown earned a spot in the Best Performance by an Actor in a Television Series — Drama category, whereas Metz was nominated for Best Performance by an Actress in a Supporting Role in a Series.
Numerous actors from the same show have been nominated side by side in the same category before, which seems especially common this year with Big Little Lies and Feud: Bette and Joan dominating the nominations, so it's unclear why Ventimiglia didn't get a place beside his co-star.
Ventimiglia hasn't gotten much awards love at all throughout his career, which seems surprising when you think about how memorable many of his characters have been. Jess Mariano from Gilmore Girls remains a topic of debate when it comes to characters from that series and Heroes' Peter Petrelli endeared himself to fans despite the show's failings. Each of Ventimiglia's performances have been unique and moving in their own ways, which just proves he's got range and he makes an impact. To see him miss out on a nomination when he's one of the most talked about characters on This Is Us does feel strange.
While Ventimiglia has been nominated for Teen Choice Awards and People's Choice Awards over the years (only winning a Teen Choice Award once for Heroes in 2008), he's had less luck when it comes to award shows not voted on by the general public. He did get an Emmy nomination for Outstanding Lead Actor in a Drama Series for This Is Us last year, but didn't take home the statue. Instead, that honor went to his co-star Sterling K. Brown, a deserved win that's hard to argue.
Co-star Mandy Moore seemed to agree when the 2017 Golden Globes nominations were announced and she received a nod while Ventimiglia did not. He texted to congratulate her as soon as the news dropped, but unfortunately she couldn't return the favor, as much as she may have wanted to. When asked about his snub last year by Entertainment Tonight, Moore said, "I agree, I agree. I'm very appreciative, but I agree. I think everyone in this cast deserved to be nominated."
It's difficult when a large ensemble cast has such consistently solid performances across the board, because not everyone can be nominated. In addition to the competition amongst the cast, there are all the other TV shows out there to take into account. With so many great series on the air at the moment, some are going to be left out when nominations roll around. It's impossible for everyone to get the acclaim they deserve.
However, that's no reason to lose hope. Ventimiglia will have plenty of chances as long as This Is Us continues; he could even grab another nod at this year's Emmy Awards if he's lucky. But even if he isn't nominated or doesn't win, Jack Pearson will still be deeply loved by fans, and that is what matters the most.
Check out Romper's new video series, Romper's Doula Diaries:
Watch full episodes of Romper's Doula Diaries on Facebook Watch.