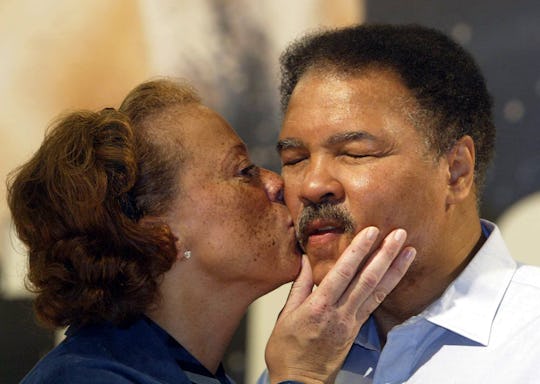 THOMAS LOHNES/DDP/Getty Images
Was Muhammad Ali Married? The Boxer Leaves Behind A Devoted Partner
As news spreads of Muhammad Ali's death, questions about the boxer's final days of begun to surface. From fans, the obvious questions about his cause of death come to the forefront. But for those who didn't have his fight history memorized, questions about his personal life are also if interest. And one of the biggest questions may be was Muhammad Ali married and, if so, who was his wife?
To answer the first question, Ali was married — four times to be exact. But we can discuss his marital history later. At the time of his death, Ali was married to Yolanda "Lonnie" Williams, and their love story is one that may cause you to shed a tear. Although the two did not get married until later in life, they met many years ago — in 1986 to be exact. At the time, a then 21-year-old Ali was visiting his parents in Louisville, Kentucky when he caught the attention of the neighborhood kids. One of whom was a then 6-year-old Williams.
"I came home from school that day, and my mother was looking out the door. I asked who she was looking at, and she said, 'That's Cassius Clay,'" Williams told The New York Times during a 2012 interview. "Muhammad must have seen me then, because he asked my older brother to get me. I was reluctant to go over, but eventually I did. That was the first time I ever saw him." Williams said Ali continued to visit their neighborhood throughout the years, always showing an interest in the kids and giving them advice. And then, at the age of 17, she had an epiphany of sorts.
"I knew I was going to marry Muhammad. I was just a kid in school, and I had things I needed to do, but I knew," she said. "I was young, but it was intuitive. The thought was like an umbrella, always over my head."
And that's exactly what Williams did. In 1986 — two years after Ali was diagnosed with Parkinson's disease — they became husband and wife. That same year, Ali and Williams adopted their son, Asaad. According to The Courier, Ali and Williams met their would-be son while visiting her sister, who was looking after the boy before he was put in the foster system. The couple instantly fell in love with Asaad and took him home to Louiseville.
As mentioned earlier, however, Williams was not Ali's only wife throughout his life. Ali was first married to Sonji Roi in 1964, according to Heavy. The site reported that Ali proposed the night they met, but the marriage only lasted into 1966. A year later, Ali married Khalilah Camacho Ali — previously known as Belinda Boyd — who claims to have created the man the world knows as The Greatest.
"You guys don't realize Ali wasn't the great Muhammad Ali as he is now," she said during a 2014 panel for PBS's Trials of Muhammad Ali. "He was struggling in that direction. He was struggling with people taking everything from him and everything, and I was the only thing that hold everything together." During the panel, Khalilah added that helping hi become The Greatest was the best time of her life. But despite that, the two divorced after ten years of marriage.
In 1977, Ali married actress Veronica Porsche. and had two children together. One of whom was the great Laila Ali. The two divorced in 1986 and, shortly after, Ali married Williams.
In addition to Williams, Ali is survived by nine children and multiple grandchildren. Together, they will ensure his legacy lives on for years to come.