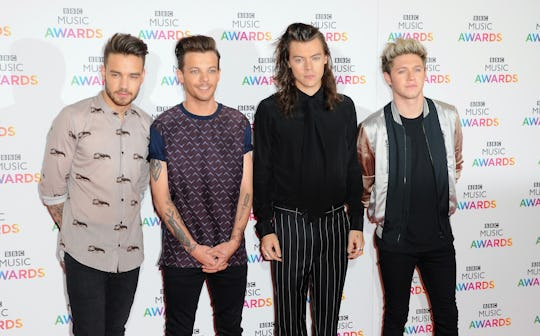 Eamonn M. McCormack/Getty Images Entertainment/Getty Images
Was One Direction Nominated For A 2017 Grammy? The Band Ends With A Snub
The 2017 Grammy nominations are here and now everyone's wondering who got nominated, who got snubbed, and who will most likely walk away with more trophies than they can carry. One band that was highly discussed leading up to the Grammy nominations was One Direction. After Zayn Malik left the band in 2015 the group then announced they'd be taking a hiatus in 2016 after the release of their fifth album, Made in the A.M. With each member of the band now signed for solo deals, it seems the gang may be over for good. So was One Direction nominated for a 2017 Grammy? Unfortunately, the band didn't make the cut again this year.
Throughout the band's six year career, they've been nominated for a total of 366 awards and have won 194, but the group has yet to walk away with a Grammy win or nomination. Although fans were anxious to see if One Direction would get a Grammy nod this year — since it may very well be their last chance — others were also curious to see if Zayn would get his own Grammy nomination as well. Zayn's solo album, Mind of Mine, saw a lot of success and though he was ineligible to win Best New Artist because of his previous work with One Direction, that didn't put him out of the running to get nominated altogether.
Sadly this just wasn't the year for One Direction or it's previous member. Zayn did not receive any Grammy nominations this year either, despite the success of his debut solo album. Naturally fans are upset and find it a bit unfair that the Chainsmokers were allowed to be nominated for Best New Artist, but not Zayn, despite the fact that Zayn was technically ineligible for the award. Fans were also very upset that One Direction didn't got a nomination since this was presumably their last chance to get one together.
Fans are obviously deeply disappointed at the snubs given to One Direction and Zayn, but many are also hopeful that Zayn, along with Niall Horan, who released his first solo single, "This Town," this year, will one day get their own Grammys and the recognition they deserve.