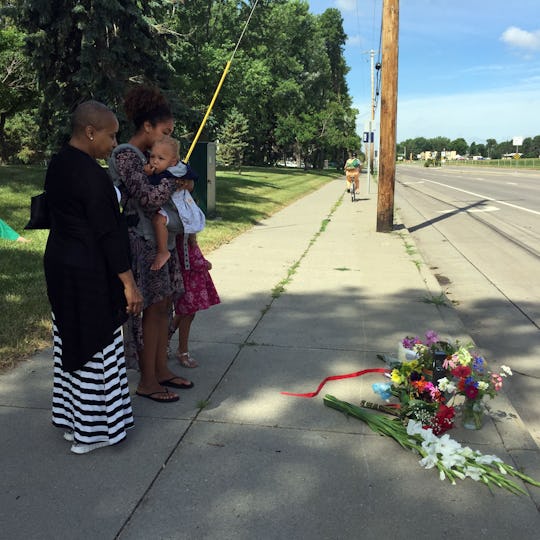 AFP/AFP/Getty Images
Was Philando Castile Driving?Aftermath Caught On Video Provides Details About The Case
The jarring and heart-wrenching video of the police killing of Philando Castile has sparked shock and outrage across the nation with demands for answers surrounding the circumstances his death. While the case is still under investigation, many are left confused about certain details of the case. Like, was Philando Castile driving? His fiancée, Diamond Reynolds, livestreamed the aftermath of the shooting on Facebook, providing some answers into the 32-year-old man's death.
In the video, Castile can be seen slumped over in the driver's seat of the car, covered in blood on his chest, as Reynolds pleads for his life while she narrates into the video the details of what happened. According to NBC News, it was around 9 p.m. when police pulled over the car, which Castile was driving, for having a broken taillight and asked him to identification.
According to NBC News, Reynolds told reporters that Castile kept his ID in a thick wallet in his right-back pants pocket and let the officer know that he was carrying a firearm as he reached for his identification.
"I begin to yell, 'But he's licensed to carry,'" Reynolds said, according to NBC News. "After that, he [the officer] began to take off shots — bup bup bup."
After Castile was shot, Reynolds began to record. The officer can be seen with his gun drawn and pointed at Castile until Reynolds, who remains calm but noticeably alarmed in the video, is removed from the car.
As she continues to record and grabs images of the officer's face and Castile's bloodied and slumped over body, the officer appears very shaken. "He was frantic and very, very nervous," Reynolds told reporters, adding that he appeared to be crying.
According to The Star Tribune, Castile had no criminal record, but had been found guilty of 31 traffic-related misdemeanors, including driving without proof of insurance, driving after revocation and suspension, failure to wear a seat belt, and parking violations. His traffic offense record, relatives say, is evidence that police repeatedly targeted him because he was "DWB" or "driving while black."
Although names of gun permit holders are not public under state law, a source confirmed to The Star Tribune that Castile had a valid permit to carry a gun when he was shot and killed.
The footage Reynolds captured provides an unprecedented glimpse into the details and evidence that will be used in the investigation of Castile's death. There are still many unanswered questions about the case, but the footage seen by both the police and the public would be hard to tamper with and will hopefully bring justice and reform within law enforcement and race relations in the United States.