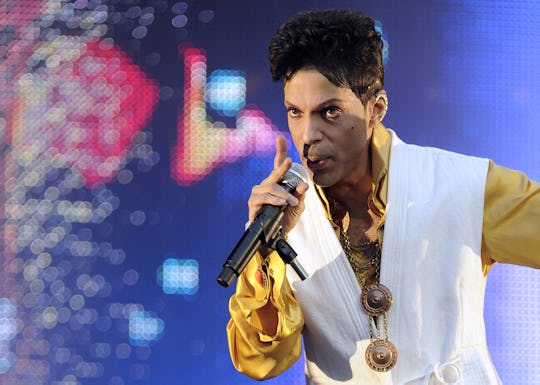 BERTRAND GUAY/AFP/Getty Images
Was Prince Ever Married? The Artist Was Married & Divorced Twice
News broke earlier in the day on Thursday, April 21 that the prolific artist, Prince, died at 57 years old at his home in Paisley Park, Minnesota. As details trickle out, the world waits in devastating mourning for more information on what caused the death of such an iconic artist. But, like we've done so many times before, while we we wait for more information, we roll out the catalogue of questions: Was Prince ever married? Who did the artist leave behind? Will we ever recover? What happens now? It's a sobering thought to count all the ways the world will no longer ever look the same as it did just hours before, and though fans feel the loss of their icon in unique and personal ways, you can't help but think of the performer's family on a day like today.
Prince was married twice in his life. First to Mayte Garcia, who, as Heavy.com reports, was his backup singer. According to The Mirror, Garcia was a teenager when she and Prince, then 32, married. Speaking candidly about their relationship for the first time, Garcia recounted the many firsts that her relationship with the star:
I remember our first kiss, and thinking, 'Oh God, oh wow, this is not happening!' I remember it being overwhelming and weird. Our entire time together was amazing and surreal, and he showed me some incredible things and introduced me to incredible people.
They were married on Valentine's Day in '96, The Mirror reports, in Minneapolis, where Prince grew up. White doves were reportedly released as the twosome exchanged their vows to one another. Garcia and Prince would go on to have two children together, but their first son, Boy Gregory, died just one week after he was born. Boy was born with Pfeiffer syndrome, a rare disorder that prevents a child's skull from growing normally. It also affects the shape of a child's head, face, and bones in their hands and feet, according to the U.S. National Library of Medicine. Shortly after, Garcia told The Mirror, she miscarried their second. Garcia says that the losses were the one thing that "broke" her and Prince.
To lose two babies is really scary... it really caught on me emotionally, physically, everything. It took me at least 15 years to get over it and still, to this day, I miss my son. I believe a child dying between a couple either makes you stronger or it doesn't. For me, it was very, very hard to move forward and for us as a couple I think it probably broke us.
They divorced in 2000. Shortly after, Prince then married his second wife, Manuela Testolini. According to PEOPLE, Testolini is from Toronto and is the president of Gamillah, Inc., which operates a line of designer candles. She and Prince met at the Prince's charitable foundation. They were married in 2001 and Testolini took her husband's last name. Testolini Nelson filed for divorce five years later, according to PEOPLE. In a statement provided by her attorney, Edward Winer, Testolini said,
Deciding to end the marriage was a very difficult decision for Ms. Nelson. She is seeking a cooperative resolution of this case and hopes the proceeding will be resolved quickly and respectfully. Ms. Nelson continues to be focused on her charitable work and her business, which remain her top priority.
At the time of his death, Prince was not married and had not been linked to any current partners.