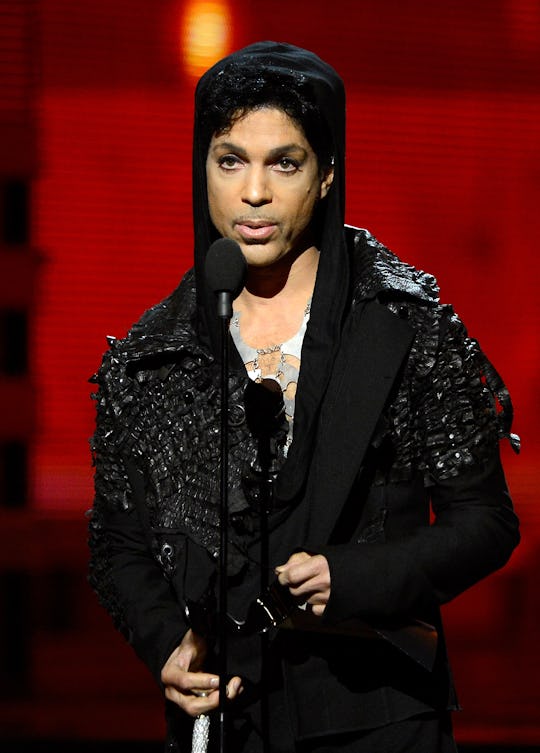 Kevork Djansezian/Getty Images Entertainment/Getty Images
Was Prince Vegan? The Singer Had Earned Himself An Honor
There were a lot of eccentricities that went along with "being Prince." Spend a few moments going through the many entertaining stories people have told about him, and you'll quickly realize that there were many fascinating things to know about Prince. With the news of his passing, many of those lovable quirks, statements, and beliefs might come to light. For example, did you know that Prince was vegan? Not only was the singer a well-known strict vegan, but he even won an award for it once.
Prince's diet was no secret to fans. The "Purple Rain" singer was a well-known vegan in the vegetarian and vegan world. In fact, in 2006, Prince was voted "world's sexiest vegetarian" in PETA's annual poll. Yes, vegetarian and vegan are two different things, but this is what the award was for. You might be surprised to hear that this award even exists, but who better to deserve the annual honor than Prince?
According to CBS News, Prince included the following Mohandas Gandhi quote in his 1999 album Rave Un2 the Joy Fantastic: "2 my mind, the life of a lamb is no less precious than that of a human being." Gandhi, as you might guess, did not use the numeral "2" in his original quote — that was certainly a specialty of Prince's. CBS News also notes that his album liner notes included writings about "the ills behind wool production."
In 2011, the website Heavy Table included Prince in their "What's In Your Fridge" series, and as you can imagine, it was absolutely fascinating. Included in his fridge — but prohibited from being photographed — was homemade kimchi, 18 varieties of mustard (that's 18, like more than one), soy milk-based coffee creamer, microgreens, challah bread, Yak milk (which is given freely by the Yak, Prince explained), maple syrup, and five pounds of Dunk-a-roos (which Prince said, "Don't know what 2 say about Dunk-a-roos. They're just good! Sometimes you want a food that is comfortable and takes you back. For me, it's those crazy little kangaroo crackers.").
One of the more startling things found in the fridge — for those that may follow a vegan or vegetarian diet — was Braunschweiger, which Heavy Table stated was a log of a traditional German smoked pork liver sausage. There was no explanation from Prince as to why the log of meat was in the fridge.
Prince had a lot of passions, and this was just one of them. He seems to have dedicated his life to this lifestyle, which is just one more thing you have to applaud him for.
(Update: It turns out that the "What's In Your Fridge" article was an April Fool's prank, although I'd still like to believe that he would have five pounds of Dunk-a-roos in his fridge.)