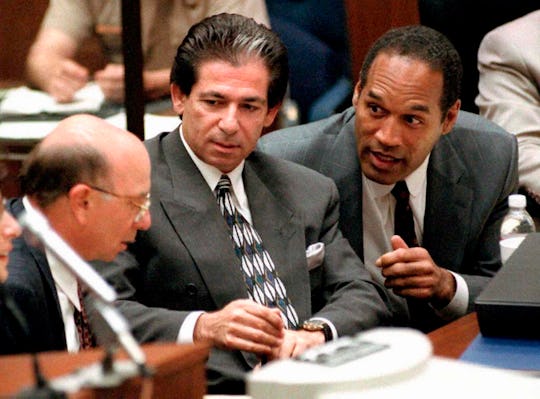 VINCE BUCCI/AFP/Getty Images
Was Robert Kardashian Friends With O.J. Simpson When He Died? The Trial Affected Their Friendship
By now, FX's American Crime Story established that the late Robert Kardashian had a longstanding friendship with O.J. Simpson. Initially, Kardashian fiercely defended Simpson and believed he did not commit the murders of Nicole Brown Simpson and Ronald Goldman, of which Simpson was found not guilty. This faith in Simpson, however, eventually began to fade, at least on The People v. O.J. Simpson. But the question stands, was Robert Kardashian still friends with O.J. Simpson when he passed away in 2003?
When the trial was taking place, Kardashian and Simpson had been friends for already over twenty years. Not only were the two business partners, but they went through personal turmoil together as well (they both went through divorces in the early '90s). While Kardashian said that he did not see Simpson as frequently in the years leading up to the trial, he nonetheless joined the defense's "dream team."
Kardashian acted as Simpson's "handler," of sorts, during the trial. As shown on American Crime Story, his loyalty caused a rift in the Kardashian family. "We felt really in the middle of this trial. We didn't know which parent to side with," Kim Kardashian said in a 2009 interview on Dr. Phil.
Kardashian's loyalty to Simpson, however, waned over time. In an interview with Barbara Walters in 1996, he said he had "doubts" that Simpson was innocent. "The blood evidence is the biggest thorn in my side. That causes me the greatest problems. So I struggle with the blood evidence," he said. Walters asked Kardashian if he would do it all again, and he said no. "I would not get involved again," he told her.
David Schwimmer, who portrays Kardashian on American Crime Story, spoke to The Hollywood Reporter about Kardashian's crisis of faith. "I think it changed him profoundly in probably every way. This is just my guess, but he never really recovered after that trial," he said. "His health deteriorated, it ruined the new romantic relationship he was in. It affected him profoundly."
According to Kardashian's ex-wife, Kris Jenner, Kardashian was shocked by the "not guilty" verdict. Further, his and O.J.'s friendship never recovered from the trial. "O.J. did try to reach out and call him, but Robert didn't take the call," Jenner said.
His early actions suggest that, at first, Kardashian believed his friend was innocent. As the evidence stacked against Simpson, however, he could not keep that same faith. Kardashian was so affected by the trial that his relationships were strained — not just with Simpson, but with his family and romantic partners.