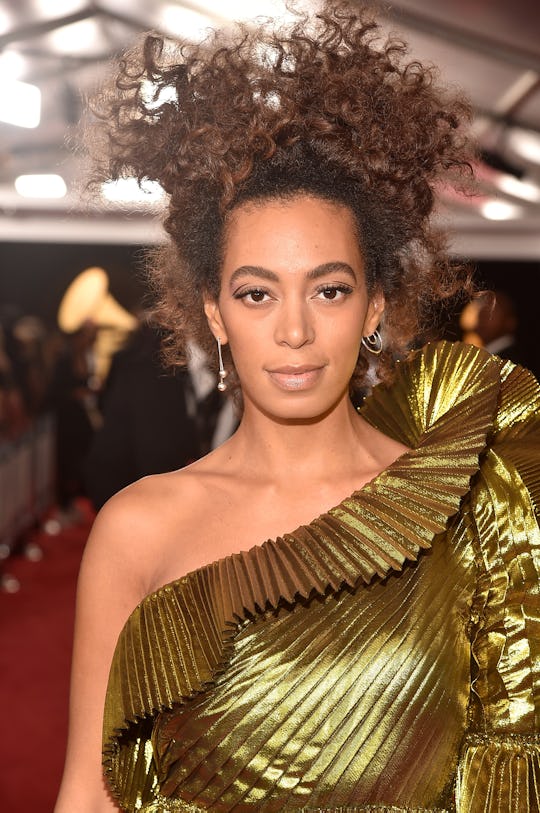 Alberto E. Rodriguez/Getty Images Entertainment/Getty Images
No, Solange Wasn't Booed At The Grammys
Sunday night's 2017 Grammy Award ceremony was filled with notable moments. From accidental cursing, to a live rendition of "Carpool Karaoke," the evening was far from ordinary. One questionable highlight, though, was when Solange Knowles took the stage to introduce A Tribe Called Quest and a chorus of very audible boos could be heard in the background. So, was Solange booed at the 2017 Grammys? As it turns out, probably not.
Of course, Twitter had a momentary meltdown when the first boos were heard while Solange spoke. However, the most likely answer to the question is that the audience was booing the stage and sound crew for cutting off the previous speaker's microphone as he was trying to make an acceptance speech, ahead of Solange's intro.
Before Solange was slated to introduce A Tribe Called Quest, Adele was accepting her Grammy for Song of the Year for "Hello," and had handed the microphone over to Greg Kurstin who cowrote the song with her. However, Kurstin barely got three words out before the crew had cut his mic, and panned the camera over to Solange for her introduction of A Tribe Called Quest. But that wasn't exactly clear in the moment, and many were confused as to what exactly was going on.
The Grammys acceptance speeches this year have all seemed to share that same theme — being seemingly cut short time and again. As Chance the Rapper accepted his award for Best New Artist, for example, the music began swelling, a usual signal that he needed to wrap things up. However, Chance didn't give up that easily, and continued to speak over the music, finishing his speech and getting all his words of gratitude in before he left.
Obviously, with live events there will always be blunders, and the show-runners definitely have a tight schedule to stick to, so having time limits on acceptance speeches in understandable. But this specific incident seemed a little... off.
While everyone and their grandma knows who Adele is, the recognition of songwriters is also important. And as Adele was happy enough to share the stage and microphone with her cowriter, it was very awkward to have the crew cut Kurstin off, as he is definitely not the household name Adele is.
Even though it's heartening to see so many flock to Twitter to defend Solange from any possible booing, it's critical to know that that isn't what happened, and the booing was rightfully deserved.
So, rest easy Beyhive, Solange was not booed tonight.