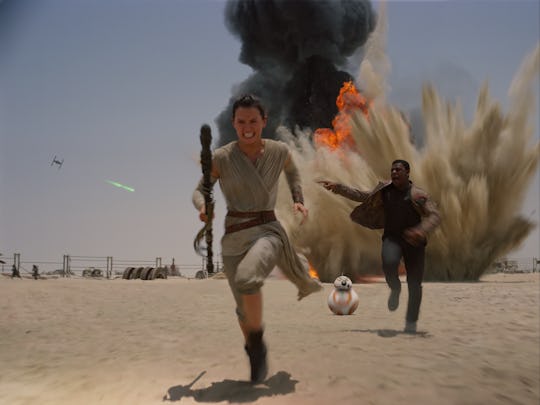 Was 'Star Wars: The Force Awakens' Nominated For An Oscar? Yes, But Not THE Oscar
Let's face it — Star Wars: The Force Awakens is already a winner. After all, the film has already raked in $1.7 billion worldwide. Billion! (Suck it, Powerball winners.) So whether Star Wars: The Force Awakens was nominated for an Oscar doesn't really matter. The film is in pretty great shape as is.
But, for fans, it does matter. Because the film was not only an exciting addition to the canon for Star Wars fans, but also a necessary digestif to help the dreaded Star Wars prequels go down easier. With a 93 percent Rotten Tomatoes rating, Star Wars: The Force Awakens essentially forced the franchise to wake up. So to have the Academy recognize that feat (coming back from the critical dead after Jar Jar Binks) would be a major win for any and all Star Wars fans (especially after the film was snubbed by both the Directors Guild and Producers Guild).
So, did the Academy recognize Star Wars: The Force Awakens?
The force was with Star Wars fans on Thursday, although not for Best Picture. The film picked up nominations for best original music score, sound editing, sound mixing, visual effects, and film editing, despite having no awards traction before it. Still, that doesn't make Daisy Ridley, Adam Driver, Harrison Ford, or J.J. Abrams' snubs any easier to swallow. Fans appreciated the nods but weren't overlooking the nods the film didn't get:
The nominations aren't exactly what fans were looking for, but five isn't too shabby. Whose ready to watch Star Wars clean up in the technical categories come Feb. 28?