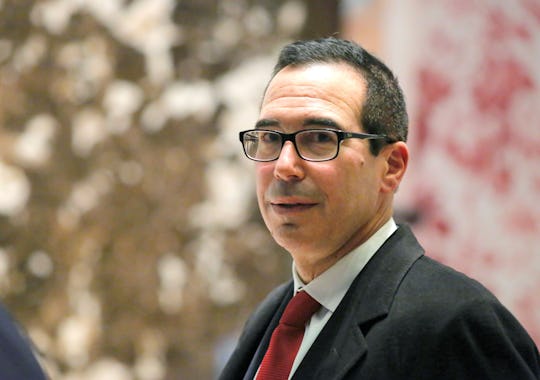 KENA BETANCUR/AFP/Getty Images
Was Steve Mnuchin Really A Producer On 'Suicide Squad'? Trump's Treasury Pick Has Hobbies
Can the Trump transition get any weirder? Possibly. On Tuesday, Team Trump nominated Steve Mnuchin as treasury secretary. But he's more than just a money guy. Steve Mnuchin was also a producer on Suicide Squad, and a bunch of other movies you probably know.
In short, Mnuchin was the ATM for the entire X-Men franchise and Avatar. He raised money for the Trump campaign throughout the election, but his history and experience doesn't really jive with anything Trump campaigned on when it comes to cleaning up Wall Street. Mnuchin bankrolls huge Hollywood films, but he's also a Goldman Sachs guy.
Mnuchin's father was a Goldman Sachs partner, too, and after attending Yale Mnuchin joined the firm as a trader. Once he left Goldman, after 17 years overseeing government securities and mortgage bonds, he founded Dune Capital Management, a hedge fund named after the dunes by his Hampton home, according to The New York Times. He spends most of his time now dealing in the "West coast economy" (which I think you have to say in your best snob voice and roll your eyes). The fact that he's never worked in politics isn't abnormal for Treasury secretary, though, so it's not that alarming. When it comes to dealing with the dough, you probably want a private sector guy.
What is kind of alarming is that Trump and Mnuchin have known each other for ages, in that kind of way you just have to assume really rich white men from the East Coast know each other. They even had a legal battle while Mnuchin was at Dune: The hedge fund helped finance construction Trump's people were doing in Chicago in 2008 when the Trump Organization sued Dune, along with other lenders on the project, to extend the loan terms.
Mnuchin's other company, OneWest, was also once accused of foreclosing on borrowers illegally and fair-housing advocates filed a discrimination suit with the federal government. But as tricky as the situation might be, Mnuchin probably isn't too worried about fair housing issues at the moment, since he has a place in Bel Air with his third wife and now a possible gig in Trump's administration. (Representatives for Mnuchin at Dune Capital did not immediately respond to Romper's request for comment.)
Voters seem to like that Trump is ostentatious and has ostentatious friends so they might be pleased with the Treasury pick. But if they were hoping that Trump was going to regulate Wall Street and advocate for Americans looking to buy homes, take out lines of credit, and just participate in the economy, a Goldman Sachs-man, hedge fund founder from Hollywood might not be the change they were looking for.