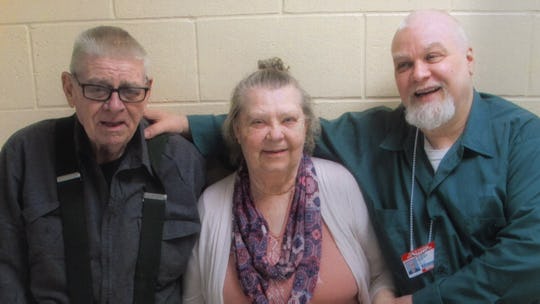 Netflix
Steven Avery's Case Is Far From Over In 'Making A Murderer Part 2'
With the Making a Murderer Part 2 premiere just a few days away, viewers are reacquainting themselves with every aspect of Steven Avery's murder trial. Since the first season of Making a Murderer aired, there have been substantial developments in his case, and his post-conviction attorneys have been filing appeals on his behalf. With all the legal back and forth his case has been through, viewers are wondering, was Steven Avery's conviction overturned?
So far, Avery's conviction still stands, but his attorney, Kathleen Zellner, continues to fight for his exoneration. Zellner, who is a wrongful conviction specialist, first filed an appeal for his release in 2016, arguing that his initial trial included illegally obtained evidence, reported The New York Times. The appeal was denied by the Circuit Court in 2017, but in June 2018, the U.S. Circuit Court of Appeals sided with Zellner, reported WBAY, and told the Circuit Court that they were obligated to hear her motion to supplement his record with new evidence pertaining to the case.
So, Zellner filed a 599-page appeal with the Wisconsin Circuit Court in July 2018, in which she asked the court to consider previously withheld evidence, including potentially incriminating evidence found on a laptop used by Bobby Dassey. Bobby is Avery's nephew and the older brother of Brendan Dassey — the young man who was charged and convicted of assisting Avery with the rape and murder of 25-year-old photographer Teresa Halbach. The validity of Brendan Dassey's confession (he was a minor and cognitively disabled) has been questioned in the courts, but his brother Bobby was never considered an official suspect. At the time of Halbach's murder, Brendan lived on Avery's property with his mom and brothers, where some of Halbach's remains were found.
According to Rolling Stone, in the July appeal, Zellner motioned the court to consider a CD-rom — containing 2,449 pages of data downloaded from the Dassey computer — as supplementary evidence in the case. Zellner believes that Bobby Dassey's witness testimony was false, and has accused him of accessing violent images of women being tortured around the time Halbach was murdered. She argued that this CD, along with other evidence that has come forward, could implicate Bobby Dassey as a suspect in the murder.
But in September, a Sheboygan County Circuit Court judge denied Zellner's motion. According to the Post Crescent, Judge Angela Sutkiewicz ruled that the evidence presented was not new, and both the prosecution and defense in the 2006 trial had access to the exact same information. "In light of all the evidence submitted, it is clear that the defense was in possession of the same evidence as the prosecution prior to trial," she wrote in the 11-page decision. "If the defendant did not open the evidence disclosed to him and was unaware that the specialized software was necessary to study it until his post conviction proceedings, he was not deprived of access to the information; trial counsel simply chose not to review it."
Despite the court's denial of Avery's appeals, Zellner is continuing to fight for his release. The attorney has been vocal about the case on Twitter, and in a couple of September tweets, she outlined the appeal process yet to come. "So far only 1 Judge has ruled on Avery. At least 10 more will review before a final decision is made— on this evidence. If he is not freed we will file again. Never going to end until he is free." Zellner wrote in one tweet. "We are at the BEGINNING not END of Steven Avery's post-conviction appeal process," she tweeted a few weeks later.
So, with a such a voracious post-conviction team behind him (Zellner has won 19 exoneration cases), Avery may see his case resurface in the courts. Until then, viewers can get an inside look into his and Dassey's appeal process on Making a Murder Part 2, which premieres on Netflix on Oct. 19.