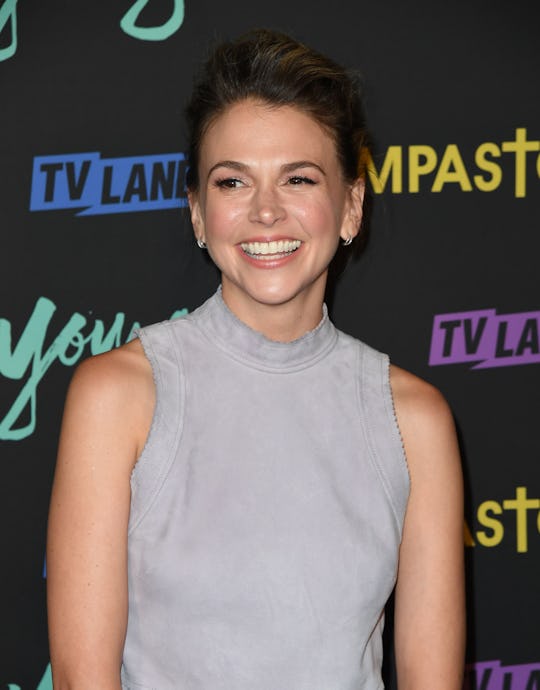 ANGELA WEISS/AFP/Getty Images
Was Sutton Foster In 'Kinky Boots'? Her 'Gilmore Girls' Character WAS Kinky Boots
(Warning: This post contains spoilers from Episode 3 of the Gilmore Girls revival.) Gilmore Girls creator Amy Sherman-Palladino went on to create the much too short lived drama, Bunheads, after the end of Gilmore Girls. Various characters from Bunheads appeared in the Gilmore Girls revival but most fans were most excited to see Sutton Foster who led the show. Besides being an amazing actress Foster is also an amazing singer and dancer and in the revival Sherman-Palladino tapped into all of Foster's talents. Foster played the role of Violet who apparently played "Kinky Boots" in Kinky Boots, which led many viewers to wonder if Sutton Foster was actually in Kinky Boots.
If you've seen Kinky Boots, you probably know that there actually isn't a character in the musical called Kinky Boots. However, try telling that to Taylor and the other residents of Stars Hollow. Lorelai tried desperately to point this out and I was frustrated for her but thankfully Violet eventually confirmed herself that she actually played the featured role of Trish and not the made up character of "Kinky Boots." Though Violet really did have a role in Kinky Boots Foster did not. Foster has starred and appeared in multiple plays and musicals over the years including Shrek the Musical, Little Women, Funny Girl, and Annie, and won one Tony and was nominated for many more. However, amongst her many accolades appearing in Kinky Boots is not one of them.
However, Foster did appear in the musical Violet in 2014 in which she played the lead of Violet and was nominated for Tony for the role. The fact that Foster played a character named Violet in the revival could be a coincidence but if it is it's a pretty funny one.
For the Gilmore Girls revival Violet was cast to play the lead role in the Stars Hollow musical. Although it was great to see and hear Foster the musical itself wasn't all that great. Naturally Lorelai was the only one to have multiple issues with the musical while everyone else actually liked it. Violet herself was also a little out there and took great offense to Lorelai's (valid) criticism.
Overall, it was awesome to see Foster working on another Sherman-Palladino project and she did an amazing job in the episode. Definitely worth a watch.