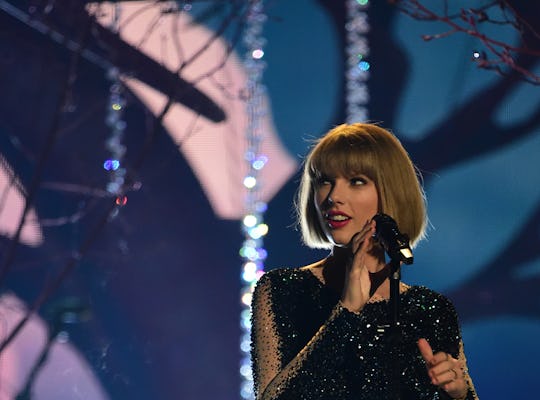 ROBYN BECK/Getty
Was Taylor Swift Lip Synching "Into The Woods"? Twitter Wants To Know
Not even five minutes into the 2016 Grammy Awards, and already there's some controversy. Taylor Swift took the stage for a jaw-dropping opening number where she sang some hit songs from her album 1989. But was Taylor Swift actually singing at the Grammys? More specifically, was Taylor Swift lip synching "Into the Woods"?
Whether you are a fan of T-Swift or not, you can't deny that the girl's got some talent. You also can't deny that perfomring at the Grammys — and performing the opening number, no less — is a lot of pressure. Your wardrobe needs to be on point, your choreography has to be sharp, and, most importantly, your pipes have to be perfect. So if Swift did decide to lip synch the opening number, you can't totally blame her. But did it actually happen? That we don't know.
This wouldn't the first time Swift has been accused of lip synching at a live show: Swift was accused of lip synching her performance at the 2015 VMAs with Nicki Minaj, though neither ever confirmed nor denied the rumors. In watching video of her performance, it seems like her lips aren't quite matching up the words.
Now, that could easily be the result of a delayed broadcast, but it could also be the result of a delayed track. If you were to ask the people of Twitter, it seems the votes are split.
There are some who believe Swift is lip synching:
And those who think she belted from her heart:
Whether she lip synched or not, it was one hell of a performance that let the audience clapping. And, at the end of the night, that's all that matters.