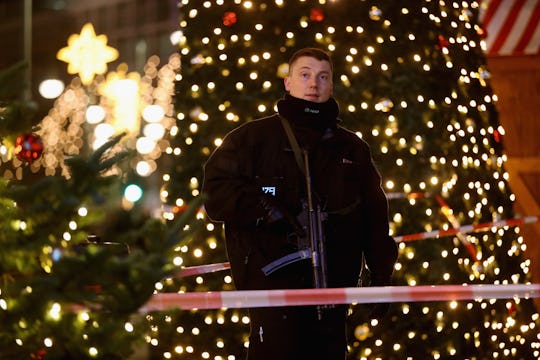 Sean Gallup/Getty Images News/Getty Images
Was The Berlin Truck Crash Terror? Police Believe It Might Have Extremist Ties
On Monday evening in Germany, a truck ran into the Breitscheidplatz Christmas market in Berlin. With nine confirmed dead so far and over 50 injured, officials are now investigating the Berlin truck crash as an act of terror, though the motive for the crash remains unconfirmed. According to CNN, witnesses say the truck was traveling at around 40 miles per hour in the pedestrian square and did not try to stop. The suspected driver has been apprehended and another man was found dead in the passenger seat of the vehicle, according to Berlin police.
Berlin police have been Tweeting in English, asking people in the area to stay indoors; Officials said that there are "no indications of further dangerous situations in the city," as they haven't confirmed whether the crash was an attack or not. Berlin police Tweeted that the "background" of the attacks remains unclear. The suspect in custody has not been confirmed as the driver, but he matches the description from witnesses on the scene and is "under consideration."
The truck plowed into the market around 8 p.m. ET. The truck, according to The Guardian, is registered in Gdasnk and belongs to a Polish trucking company. The owner of the company, who has identified himself as Ariel Z, gave an interview to Polish radio TVN24 on Monday and said that his cousin was traveling back to Poland from Italy, but planned on stopping in Berlin for the night as a break.
Ariel Z told the Polish radio station that he didn't believe his cousin caused the crash, citing his 15 years experience as a driver. It's possible that the truck was hijacked at some point in the journey, according to local reports.
Although the identity of the driver and passenger have not been confirmed, Germany's Justice Minister Heiko Maas tweeted that federal prosecutors will be handling the investigation moving forward.
Marcus Pretzell, a German politician from the AfD, Alternative for Germany, which is anti-immigration, Tweeted that the victims of the crash were "Merkel's dead." The Tweet refers to German Chancellor Angela Merkel who is seen by some in the country as being too "soft" when it comes to immigration and giving refugees asylum in the European country. So the situation is already being politicized in Germany as the investigation unfolds.
Although there is no confirmation that the crash was an attack or organized in any way, it is reminiscent of a truck crash in Nice, Paris this past July that was later declared an act of terror. That attack killed 84 people and left about 20 others injured.
The State department had issued a travel warning for American in November, warning tourists to stay away from Christmas markets and other crowded others in the name of "heightened" terror risk.
More information about the suspect in custody and the motive behind the crash is sure to come.