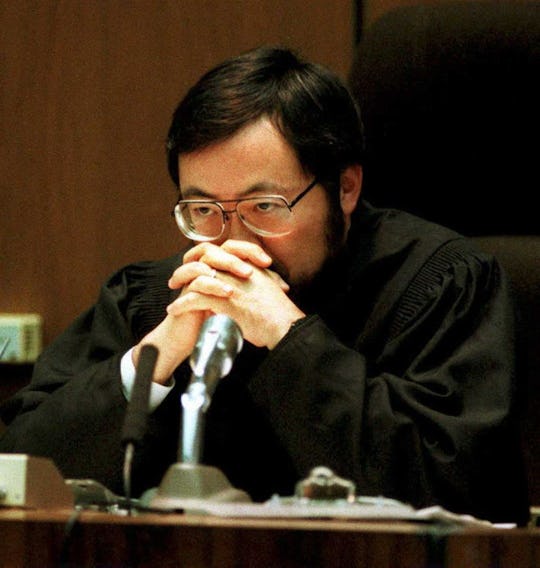 POOL/AFP/Getty Images
Was The Juror Revolt Real On 'The People V. O.J. Simpson'? 'American Crime Story' Remains True The Past
The People v. O.J. Simpson: American Crime Story has explored every aspect of the O.J. Simpson trial, taking the viewers behind the scenes of key moments in the story like the chase down the freeway in the white Ford Bronco, and the private discussions of both the defense and prosecution. Episode 8, "A Jury in Jail," takes a look at the jury for the case, who are getting more than a little antsy after being sequestered for eight months during the trial, eventually leading to an actual protest. But, was the juror revolt on The People v. O.J. Simpson real? The short answer: yes.
Though the process of jury selection has been important to the show so far — there has been an emphasis placed on both legal teams trying to assemble jurors who would lean towards their side — the show has yet to take a deeper look at the jurors themselves. This episode drives home just how frustrating it was for the jurors to be kept away from their families for months on end without anything to fill their hours with. The jurors had scheduled television time, where they'd have to agree on shows to watch — significantly lessening the actual enjoyment in those past times. The jurors had to remain untouched by the intense media for fear that it would sway their decision. Jurors were also being dismissed and replaced fairly regularly, and, as we saw, the trial dragged on for months.
The revolt reached its zenith after the dismissal of three deputies. According to the Los Angeles Times, "Los Angeles County Sheriff's Department employees had been 'falsely accused' of favoring" white jurors. As protest, more than half of the jurors came to court dressed in black, according to the same Los Angeles Times article. Their dark ensembles were a way to express their anger to Judge Ito because they felt they were not being heard. The strict conditions they had to live in combined with the stress of such a high-profile trial were apparently wearing them down. After the protest, Ito shut down testimony for two days to meet with the jurors and address their concerns.
This revolt not only slowed down a trial that was already taking a long time, but it had some people fearing a mistrial. Back in 1995, Johnnie Cochran spoke to reporters outside the courthouse and said, "I have been practicing for 32 years and have never seen anything like this." It was a statement that would hold true for many events during the trial. Though things would settle and get back on track, the interruption of the jury revolt was just one more instance of this case being unlike any other.