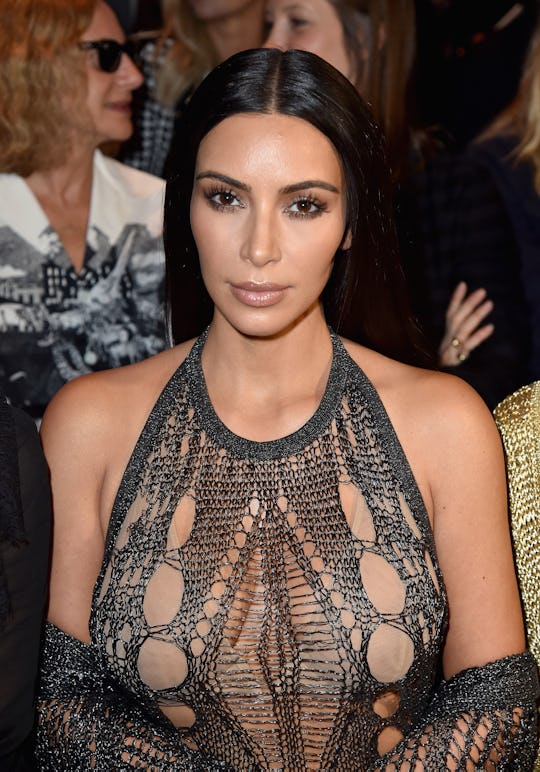 Pascal Le Segretain/Getty Images Entertainment/Getty Images
Was The Kim Kardashian Robbery A Set Up? Some Think It Happened Too Easily
A shocking report that one of the world's most famous and glamorous women was tied up, gagged, and robbed at her ultra exclusive Paris hotel where she had been staying during Fashion Week left millions of Kim Kardashian fans and foes alike to wonder: how could this have happened? Was the Kim Kardashian robbery a set up? The Daily Mail has a theory it could be the work of a ring of jewel thieves called the Pink Panther Gang.
The Gang, according to The Daily Mail, is reportedly a loose association of thieves from Serbia and Montenegro who have made off with hundreds of millions of dollars worth of stolen jewels. The group got it's nickname after hiding jewels in a container of beauty cream, similar to the premise of a Pink Panther caper, according to The Mail.
The gang is also known for intricately planning its crimes and going out of their way to avoid violence, which the robbers in this instance also did, according to The Mail.
Some think Kim could have easily caught the attention of any number of would-be jewel thieves with social media posts like this one from just days ago featuring a flawless iceberg of a ring and impressive diamond grill — the likes of which most jewel thieves probably don't see everyday.
People also wonder if it could have been a planned set up since Kardashian's bodyguard, Pascal Duvier, who wasn't with Kim at the time of the robbery. According to TMZ, he was protecting Kim's sisters, Kendall and Kourtney, who were out for a night turning Paris rouge while Kim stayed in for the night. Duvier is usually a constant at Kim's side.
Romper's request for comment from Duvier about whether he was with Kim or left her to guard her sisters on Sunday night was not returned.
Just hours before the robbery, Kim jokingly tweeted he is "always in my shot."
Duvier proved just days ago on the streets of Paris what a formidable protector he is when he quickly handled a Ukranian prankster who tried to kiss Kardashian's rear end, according to TMZ.
Lending credence to the theory the Pink Panther Gang or some other highly organized group was behind the attack and theft is the idea that the building had to have been well monitored for the thieves to know Kim would be alone and unprotected for the night.
And since the hotel caters to the rich and famous, it's known for having secret entrances away from prying eyes and cameras, making it even easier for the robbers to get away undetected, The Mail reported.
Worse yet, the likelihood of Kardashian ever seeing her big old diamond ring ever again is practically nil, according to The Mail.
The Daily Mail also reported the jewels were probably immediately taken out of the country to be sold off.
As for Kim, a statement from her spokesman confirmed the incident saying:
Kim Kardashian West was held up at gunpoint inside her Paris hotel room this evening by two armed masked men dressed as police officers. She is badly shaken but physically unharmed.
Scary.