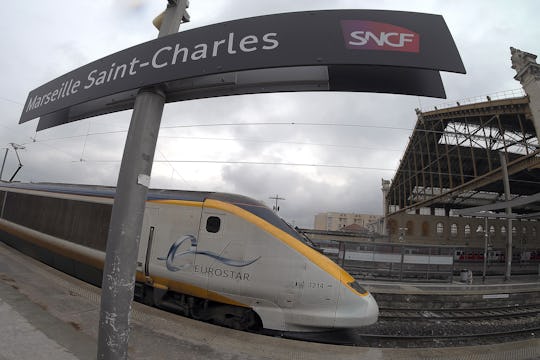 BORIS HORVAT/AFP/Getty Images
Here's What You Need To Know About The Knife Attack In Marseille, France
On Sunday, a man wielding a knife reportedly attacked people at the Saint Charles train station in Marseille, France. The suspect was shot and killed by law enforcement, who are now investigating the incident, according to local media reports. Authorities are still not sure if the knife attack in Marseille was terrorism, but the Paris counterterrorism unit, which handles all of France's terrorism cases, is leading the investigation, ABC News reported on Sunday.
Anti-terror prosecutors said that they had opened a case investigating "killings linked to a terrorist organization" and the "attempted killing of a public official," according to French news outlet The Local. Police announced on Twitter that the suspect had been shot by French soldiers who were already in the station as part of Operation Sentinelle, which puts service members in the streets just in case of emergency.
The man, who authorities say was in his 20s and of North African descent, the BBC reported, stabbed one woman to death and fatally cut another's throat. The attack happened around 1:45 p.m. local time.
Train service from the station has obviously been suspended for the day, according to The New York Times, and authorities are still asking people to stay away from the station. This attack is especially troubling since Sunday's is the second attack at this train station in a short time. Just two weeks ago, four American students were attacked by a 41-year-old woman with acid, The New York Times reported.
Authorities reportedly said that the woman, from the attack two weeks ago had "a psychiatric history" and that they didn't suspect terror as a motive for the attack on the four women. Two of them were burned by the hydrochloric acid and the other two were in a state of shock, though they weren't injured.
These recent incidents highlight that France has been a target for terror attacks, most notably starting with the January 2015 attack on Charlie Hebdo. It was after that attack that France launched Operation Sentinelle, which deploys about 7,000 troops to guard transportation hubs, tourist sights, and religious buildings — any place that could be a target for a terror attack. And it was those troops stationed in Marseille that reportedly stopped the suspect from hurting or killing more innocent bystanders on Sunday.
In that sense, the troops' presence seems to be "working," and 79 percent of French residents approve of the measures. However, it's starting to be criticized by political groups on both the left and the right for being France's new "army." They've become such a presence that people have begun bringing the soldiers warm coffee and snacks, or inviting them into the parties. But, they also make some people nervous, with one Parisian doorman telling The Guardian earlier this year:
It's quite hard to know what to tell children already traumatized and confused by the terrorist attacks. My five-year-old daughter would shush me and try to hide whenever she saw a soldier. I asked her why. "They're the killers!" she said. I told her they weren't at all, but she just replied: "But they've got guns!"
A patrolman, Staff Sgt. Stephane told The Guardian: "Children do come up and talk to us a lot. They ask us why we're here, I say it's to protect and reassure you. Then parents explain. We try not to hold our guns too high or too low."
Apart from making children nervous, lawmakers that oppose Operation Sentinelle feel that it's at best an "anti-anxiety measure," and that the troops are not being used to their best ability. With thousands of soldiers in demand on home soil, they're also spending increasingly long periods of time away from their families and not getting enough breaks. The question in France remains: Is the few times they do stop an attack, like Sunday's in Marseille, worth it?
Since 2015, 239 people have died in terror attacks, according to an AFP tally, conducted by Islamist extremists in France alone. So as authorities continue to investigate the suspect's motive for Sunday's knife attack, it appears that the troops' presence may have saved others' lives.
Watch Romper's new video series, Romper's Doula Diaries:
Check out the entire Romper's Doula Diaries series and other videos on Facebook and the Bustle app across Apple TV, Roku, and Amazon Fire TV.